Enrico Chapela's intricate Noctambulos: US premiere
(February 2009)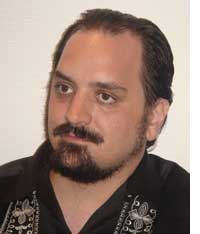 Enrico Chapela's "intricate" Noctámbulos "deftly" revealed in America
Enrico Chapela
made his concert debut in the States on January 31, performing the American premiere of
Noctámbulos
(2008), as part of the Brooklyn Philharmonic's Nuevo Latino Festival.
The New York Times
reports, "'Noctámbulos,' the Mexican composer Enrico Chapela's piece for his rock trio and orchestra…attested to a radical fusion of styles and temperaments within contemporary Latin American culture," citing the complex work as "largely dependent on intricate rhythmic cross-currents and deftly contrasted timbres."
Americas Quarterly
adds, "...a new generation of Latin American composers are making headlines across the globe with classical music that resonates beyond borders and brings new sounds to symphonies worldwide."
Commissioned by the Dresdner Sinfoniker to celebrate the orchestra's 10th birthday in 2008 and premiered on September 6, 2008,
Noctámbulos
is an orchestral version of Chapela's 2001-03 work,
Lo Nato es Neta
("the innate is true").
A commercial recording of
Lo Nato es Neta
is available on a full disc of Chapela's works, entitled "Antagónica" (Consequencias 2005).
In response to the premiere and the recording,
Sequenza 21
earmarks Chapela as "a composer on the rise," noting
Lo Nato es Neta
's "juxtaposition of rock solos with angular melodic fragments, spiky post-tonal verticals, and Stravinskyian ostinati."
Peter Zacher of the
Dresdner Neueste Nachrichten
reports from the Dresden premiere:
"The evening's strongest impression was made by
Noctámbulos
, written by the Mexican composer Enrico Chapela for rock trio and orchestra at the request of the Sinfoniker and also premiered at this concert. The fundamental element of this work consists of the contrasting rhythms that evolve into a polyrhythmic structure. At the same time, powerful eruptions and a fascinating orchestration, compelling ostinati and irresistible drive are supplementary parameters. Chapela proves here his ability to compose and assign floating melodies to individual solo instruments – besides to the trio, mainly to wind instruments. The composition is full of refinement, which as a result of the music's vitality is perceived as entirely natural and often also as spontaneous."
The Brooklyn Philharmonic engagement marks one of three premieres from Chapela in the U.S. this season. He heads to the West Coast for the April 7 world premiere of a new work (
Li Po
), commissioned by the Los Angeles Philharmonic for the Green Umbrella Series. He'll be back in New York City on June 5 for the world premiere of
Irrational Music
, commissioned and presented by New Paths in Music.
Chapela joined the Boosey & Hawkes roster in 2008. Raised with Latin music and American rock and trained both at Centro de Investigación y Estudios de la Música in Mexico City and the University of Paris at Saint-Denis, Chapela fuses the expressive and rhythmic qualities of popular music with complex metrical games and contemporary techniques.
> Further information on Work: Noctámbulos
> News Search
Email Newsletters
Sign up for news updates and offers via email
SIGN UP
ONLINE SCORES