John Adams's Doctor Atomic explodes in San Francisco
(October 2005)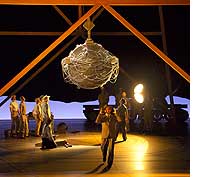 John Adams's Doctor Atomic explodes in San Francisco debut
Arriving in an explosion of press coverage, John Adams's Doctor Atomic made its debut on October 1, greeted by cheers from a capacity audience. Donald Runnicles conducted San Francisco Opera in a superb cast led by baritone Gerald Finley as J. Robert Oppenheimer and Kristine Jepson as his wife Kitty. Critics from around the globe converged on San Francisco for the inaugural run of ten performances, representing more than a dozen countries.



Wrote Mark Swed of the Los Angeles Times, "As the lights went down, an electronic soundscape filled the darkened hall. Distant noises — from machines, voices, 1945 radio snippets — ushered us out of our world and into that of the opera.

"Doctor Atomic is J. Robert Oppenheimer, who led a group of acclaimed scientists in the remarkable race against the Germans to build the world's first nuclear weapon. The opera focuses on the bomb's secret test in summer 1945 in the New Mexico desert. When, at the end, the test succeeds, so do Adams and the librettist and stage director Peter Sellars, forcing us to face exactly what that mushroom cloud means…

"It expands your consciousness in the way opera is uniquely qualified to do on those rare occasions when the art form is working with all its cylinders firing… Make no mistake, Doctor Atomic is a magnificent accomplishment that easily takes its place alongside the other Adams-Sellars triumphs — Nixon in China, The Death of Klinghoffer and El Niño — and in important respects goes beyond them. It contains music of unearthly splendor and gorgeous lushness, and its rich expressivity will take many hearings to absorb. The libretto that Sellars has ingeniously collated from documentary material and poetry is a singular accomplishment that deeply humanizes yet also profoundly mythologizes its subjects and subject matter."

Wrote Anthony Tommasini of The New York Times, "Doctor Atomic, Mr. Adams's third full-fledged opera, may be his most inventive and emotional score to date, and the conductor Donald Runnicles drew a keen, compelling and assured performance from the orchestra…

"Whole spans of the orchestral and choral music tremble with textural density. Stacked-up clusters and polytonal harmonies have stunning bite and pungency. Skittish instrumental lines come close to sounding like riffs from a serialist score. The vocal writing is wondrously varied, sometimes jittery and naturalistic, sometimes melismatic and elegiac. You hear evocations of sci-fi film scores and bursts of Varèsian frenzy.

"When he needs to propel the music forward, Mr. Adams, true to form, creates a din of pummeling rhythms, fractured meters and jolting repeated figures: call it atomic Minimalism. Yet tension runs even through the long, ruminative, wistful episodes, like the poignant bedtime scene between Oppenheimer and his wife, Kitty."

Doctor Atomic is particularly notable for a pair of stunning solo arias that stand apart from the action, yet encapsulate the moral the essence of the story. Act II opens with Kitty singing a text titled Easter Eve, 1945 by American poet Muriel Rukuyser – an aria of "bewitching force," according to Renaud Machart of Le Monde. (It has already been performed on its own by Audra McDonald, accompanied first by the New York Philharmonic, and then by the BBC Symphony Orchestra.) But the centerpiece of the opera is Oppenheimer's aria at the end of Act I. Tom Sutcliffe of The Times (U.K.) called the aria "astonishingly beautiful, profound, and devastating." Wrote Joshua Kosman of the San Francisco Chronicle, "Oppenheimer begins to sing, pouring out his soul in stark, anguished, cantorial phrases. The words – 'Batter my heart, three-person'd God' – are John Donne's, the music is the creation of America's greatest living composer, and the scene compresses all the terror and fascination of the opera's subject into eight minutes of wrenching, sinewy musical genius." He further lauded the opera's "forceful blend of tenderness and urgency… [it] stands as a major addition to the operatic repertory of this new century."

There were some dissenting voices: some reviewers found the libretto's mixture of historical documents and poetry inconsistent in tone or dramatic impact, and even Swed recommended that anyone planning to attend a performance of Doctor Atomic "should report for duty at least an hour early to read the thorough, really smart program book." But virtually all agreed with Swed that Doctor Atomic contains "some of the most powerful and haunting music that Adams has yet written."

Commissioned by San Francisco Opera, Doctor Atomic is set to travel widely. Its European premiere will be given in June, 2007 by Netherlands Opera at the Holland Festival; 2008 brings productions at English National Opera and Lyric Opera of Chicago, with others to be announced in the coming months.
> Further information on Work: Doctor Atomic
Photo: Terrence McCarthy
> News Search
Mailing List
Sign up for news updates and offers via email
SIGN UP
ONLINE SCORES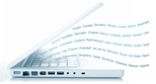 Explore our library of over 1000 online scores
VIEW SCORES