Leonard Bernstein: Rattle conducts Wonderful Town
(October 1999)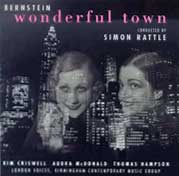 Simon Rattle's natural kinship with the jazz-inspired energy in Bernstein's works has been much in evidence in his recent performances of Wonderful Town, both live at the BBC Proms in London (which included a Conga around the Royal Albert Hall) and on the acclaimed new EMI recording with an all-star singer line-up and the Birmingham Contemporary Music Group (EMI 5 56753). This hit Broadway musical was created in 1953 by a dream team of Betty Comden and Adolph Green as lyricists and Bernstein as songwriter (replacing Leroy Anderson), and the breathless pace of composition invigorates this tale of two sisters from Ohio who are down on their luck in New York, as described by Rattle in a recent Gramophone interview:



"Wonderful Town was written staggeringly fast, and there's a feeling of this young team of great talents saying "Ha! We can do anything! You want us to fly? We can fly." A lot of it is a laboratory for all kinds of other things Bernstein wrote. At one time in his life he had a real burning desire to make a proper American musical theatre, saying "Opera is a wonderful thing but it's not of our culture", and to make something where all these different talents could work together. There are very few people able to write out jazz, and Bernstein's Prelude, Fugue and Riffs is the great example, the best piece of written-out jazz there has ever been.…" (Interview with Simon Rattle in Gramophone, September 1999)

"…Wonderful Town is full of Bernstein's most characteristically pizzazzy and melodious music – the work of a born songwriter. In this hugely enjoyable new recording of the musical numbers, the contrasting voices of Audra McDonald – sweet, creamy and sexy as romantic Eileen – and Kim Criswell – raunchy, brassy, Ethel-Mermanesque as the realistic Ruth – beguile the ear like Mozart's sisters from Cosi fan tutte in the ravishing duet, Ohio… Exhilarating razzmatazz in the dance numbers and ensembles with Rattle revelling in Don Walker's jazzy orchestrations. A bestseller in the making…"
Sunday Times

"Into the Overture with Rattle and you've a terrific band and great attitude, trumpets with the throttle full out and a bevy of saxes licking everyone into shape… The score's the thing here, after all, and no one in the Original Broadway Cast can come within spitting distance of the vocal talent Rattle and EMI have assembled."
Gramophone

Bernstein's theatre works are now well represented on disc with the composer's own versions of West Side Story (DG 415 253) and Candide (DG 429 734), Tilson Thomas's On The Town (DG 437 516), and now the new Rattle version of Wonderful Town, plus a series of all four works on That's Entertainment (TER 1197/1156/1217/1223).
> Further information on Work: Wonderful Town
> News Search