Neue Chorwerke von Karl Jenkins
(March 2012)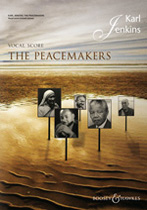 Am 16.01.2012 dirigierte Karl Jenkins in der New Yorker Carnegie Hall die Uraufführung seines Chorwerks The Peacemakers. Das einstündige Werk für Solosopran, gemischten Chor, optionalen Kinderchor und Instrumental-Ensemble beruht u.a. auf Schriften und Äußerungen so großer Friedenskämpfer wie Mahatma Gandhi, Nelson Mandela, Martin Luther King, Mutter Teresa, Albert Schweitzer und des Dalai Lama. Es stellt einen gewichtigen Neuzugang in der Reihe von Jenkins' vielgespielten Werken wie der Friedensmesse The Armed Man oder seinem Requiem dar. Im Mai geht das Werk auf Großbritannien-Tournee, bereits Ende März erscheinen im internationalen Handel der Klavierauszug (ISMN 979-0-060-12434-1) sowie die CD-Einspielung bei EMI Classics, an der neben anderen Künstlern auch der Rundfunkchor Berlin, das London Philharmonic Orchestra, die Geigerin Chloë Hanslip und die Sopranistin Lucy Crowe mitwirken (EMI CD 509990 84378 2).

Die jüngste Chorkomposition von Karl Jenkins ist Songs of the Earth, uraufgeführt am 04.03.2012 in Cardiff. Der Auftrag zu dem Werk, ergangen von der BBC für "Music Nation", den Auftakt zur Londoner Kultur-Olympiade 2012, veranlaßte den Komponisten, sich mit der Geschichte Griechenlands als dem Ursprung der Olympischen Spiele und mit der griechischen Sagenwelt zu beschäftigen. Antike Schöpfungsmythen inspirierten ihn zum Gesangstext des neuen Werkes – Jenkins selbst verfaßte ihn in der von ihm erfundenen 'mythischen' Sprache, die er schon bei seinem Adiemus-Projekt zum Einsatz gebracht hatte.

Ein weiteres Stück mit Bezug zum gleichen Themenkreis erlebt am 08.07.2012 in der Londoner Royal Albert Hall seine Premiere: Gods of Olympus für Chor und Orchester, ein Auftrag der Vereinigung "The Really Big Chorus".
> Further information on Performance: Songs of the Earth
> Further information on Work: The Peacemakers
> News Search