Prokofieff explored in festival by London Philharmonic
(December 2011)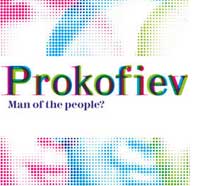 The London Philharmonic Orchestra presents Prokofieff: Man of the people? at the Southbank Centre (13 Jan – 1 Feb 2012).
A major
Prokofieff
series, programmed by the London Philharmonic Orchestra's Artistic Director Vladimir Jurowski, offers a rich reappraisal of the Russian composer. The festival contains five all-Prokofieff orchestral concerts at the Southbank Centre, readings from the composer's diaries by Simon Callow, a study day about his unknown Soviet works, a chamber concert, a classical club night curated by the composer's grandson Gabriel Prokofieff and a series of free foyer events performed by students from the Royal College of Music. Vladimir Jurowski shares the conducting honours with Yannick Nézet-Séguin and Alexander Verdernikov, and soloists include violinist Janine Jansen, cellists Danjulo Ishizaka and Alexander Ivashkin and pianists Leon Fleisher and Steven Osborne.
No composer's reputation, output or overall creative legacy is more ripe for reappraisal than Serge Prokofieff's. Despite being one of the most popular 20th-century composers, Prokofieff remains one of the most misunderstood. Satirist or classicist? Melodist or modernist? Exile or patriot? Prokofieff can so easily feel like an artist of illogical contrast and contradiction.
Vladimir Jurowski explains how he feels that "there has been a reluctance to recognise Prokofiev as a genius because of how his politics are understood. After escaping the restrictive creative environment of his homeland in 1918, moving to the USA and then Paris, Prokofiev felt compelled to return to the Soviet Union in 1936, bearing the brunt of artistic censorship until his death in 1953.
"This festival gives us the opportunity to gain a more in-depth understanding of him as a composer and as a man, enriching the black and white over- simplified view that tends to be held – especially in Britain. By sidestepping his popular output and looking at his lesser-known works for the concert hall, stage and screen we will try to analyse his work in terms of its relationship with neighbouring art forms, and his connection or otherwise with fellow composers. We'll be giving the world-première performance of an unknown oratorio version of the music Prokofiev wrote for Eisenstein's film
Ivan the Terrible
, prepared by his confidant Levon Atovmyan. We are starting out on a new journey to discover the vulnerable soul that lies behind the façade."
For further information visit the festival website:
>
www.lpo.org.uk/prokofiev/home.html
> News Search
Mailing List
Sign up for news updates and offers via email
SIGN UP
ONLINE SCORES