Reimagining LeonardBernstein.com
(April 2017)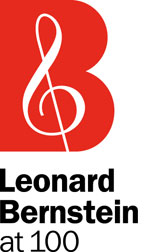 The official website of Leonard Bernstein, the central hub for information about the composer as well as centennial news, has recently been redesigned to incorporate rich content and new features. The following article was written by the Leonard Bernstein Office outlining the new offerings now available on the site.
In preparation for the highly anticipated Centennial kickoff,
LeonardBernstein.com
has undergone a much needed regenesis to ensure that
Leonard Bernstein
's impact continues into future generations. Bearing a new face for a new century, the website, designed by Chermayeff & Geismar & Haviv and built by Bandwidth Productions, offers a comprehensive look at the life and legacy of Bernstein in a clean and organized manner, providing a user experience that educates, informs, moves, and amuses.
In addition to the new landing page, which includes a variety of featured items, recommended listening, a quote of the week, and the Leonard Bernstein Facebook feed, the site is structured into nine sections:
Bernstein at 100:
One of the most important segments of the site is the Centennial page (LeonardBernstein.com/at100), which hosts a variety of information and resources related to the upcoming two-year global celebration. Presenters are encouraged to visit the page for ways to make their events more impactful, while casual browsers, too, will find ways in which they can take part. For instance, the Leonard Bernstein Memory Project (LeonardBernstein.com/memories) is a growing collection of Bernstein-related memories from around the world. We invite you to contribute your stories, so that we may start piecing together a digital quilt of remembrance.
About:
Who is Leonard Bernstein? Why is he an important 20th century figure? What orchestras did he conduct in 1946? When did he write West Side Story? Did he have a dog? All these questions, and more, can be answered in this history section. We tell his story first biographically, then examine his life in four pillars: composer, conductor, educator, and humanitarian. His life can also be understood chronologically through our interactive Timeline, which aligns moments in his life to major events taking place around the world.
Works:
As one of the most influential composers of the 20th century, Bernstein composed an impressive catalog of works ranging from symphonies to ballet to Broadway to brass band. We've compiled comprehensive profiles of each work, including brief histories/synopses, scores, images, videos, recordings, reviews, and a variety of other materials to contextualize his oeuvre within the greater sphere of culture and society.
News/Events:
In News/Events, we highlight some of the most interesting projects, articles, and new media related to Bernstein and feature a collection of events in a convenient, searchable Calendar. Presenters are invited to submit events with links to purchase tickets so curious denizens can search the database to find Bernstein events in their area. For zealous concert-goers around the globe, News/Events is the go-to portal for planning all Bernstein-related vacation destinations over the next two years. Our society thrives off the constant need to be up-to-date on current events, and the 24-hour news machine never fails to feed into our fears. However, why not take a break from watching the world fall apart and visit an entire news page devoted to Bernstein instead?
Discography/Videography:
Bernstein amassed a magnificent catalog of over a thousand pieces of recorded media as conductor, pianist, composer, and educator, and our searchable database allows you to browse to your heart's content.
Artful Learning:
Bernstein's legacy as educator continues through Artful Learning, which has been given a home-base on the site. Learn more about this transformational learning model and check out the introductory trailer by Alexander Bernstein.
Lectures/Scripts/Writings:
A primary goal for the new website is to introduce the next generation to Leonard Bernstein, and one way in which we try to spark curiosity is through interactive excerpts from Bernstein's television programs, writings, and speeches, catering to the 21st century attention span (i.e. 3-5 minutes). These excerpts are entertaining and invaluable. For a taste of this approach, take a moment to view the excerpt from the Omnibus program "Beethoven's Fifth Symphony." Play the video on the top of the page and Bernstein will be your guide as you follow along with the script, viewing high-res scans of Beethoven's original manuscript from the Staatsbibliothek zu Berlin.
Information/Resources/Press:
This contains materials for presenters, performers, scholars, researchers, and any curious individual. The Press Room and the Licensing Page also live here.
Shop:
The store has been reimagined as well! Check back frequently for new items related to the Centennial.
Please visit the newly reimagined LeonardBernstein.com and share with us your comments, suggestions, and Bernstein memories. And don't forget to like on us Facebook and follow us on Twitter (@LennyBernstein), tagging all your Centennial activities with #BernsteinAt100.
—Jacob Slattery
Jacob Slattery is Marketing Coordinator of the Leonard Bernstein Office by day, oboist by night.
> News Search
Mailing List
Sign up for news updates and offers via email
SIGN UP
ONLINE SCORES