Sebastian Currier introduces RE-FORMATION
(October 2017)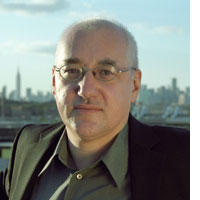 Sebastian Currier's new large-scale work for orchestra and chorus, RE-FORMATION, offers an updated perspective on Mendelssohn's "Reformation" Symphony. It will be premiered on November 2 by Minnesota Orchestra and Chorale, led by Osmo Vänskä.
For his new large-scale work for orchestra and chorus,
RE-FORMATION
,
Sebastian Currier
offers a new current-day version of Mendelssohn's "Reformation" Symphony. He pulls fragments from Mendelssohn's "Reformation" Symphony throughout the piece, and also focuses on a theme of environmental issues, using texts created by poet Sarah Manguso for the choral part.
RE-FORMATION
will be premiered on November 2 by Minnesota Orchestra and Chorale, led by Osmo Vänskä, alongside Mendelssohn's "Reformation" Symphony—the program marks the 500
th
anniversary of Martin Luther posting his "95 Theses" to the Wittenberg church door. Currier discusses his process of creating a dialogue with the past, working with poet Sarah Manguso again, and addressing present-day issues in his music.
It's not uncommon for composers today to be commissioned to write pieces that respond to classic works of the past. Did you find it challenging to engage with a work that is almost two centuries old?
I think many of my pieces have implicit connections to the past, but few as explicit as in this one, where I actually use short quotations from Mendelssohn's "Reformation" Symphony. I enjoyed the process of taking a sliver of the Mendelssohn and then spinning off in some other direction, creating a dialogue with the past in the process. I wanted to create an environment where splinters of Mendelssohn's pure and measured music are subsumed within a fragmented, fallen world.
Can you describe how you were able to incorporate elements of Mendelssohn and Martin Luther's work into your piece and reinterpret them in your own voice?
Yes, well, as the saying goes "there's nothing new under the sun." I was interested in exploring how over generations, an idea gets transformed from one thing into something else. I was looking back to Mendelssohn. In his symphony, he was celebrating the 300th anniversary of the Reformation and used a tune written by Martin Luther, "Ein feste Burg." Luther, in creating his hymn, adapted Psalm 46 from the Old Testament. I wanted to continue this tradition of taking something old and refashioning it into something new. In Psalm 46, god's strength is such that "we will not fear though the earth gives way, though the mountains be moved into the heart of the sea." In my piece, this is recast as something that means almost the opposite: If we don't stop the oceans rising, the glaciers melting, no one will.
How did the piece evolve to become a statement about our urgent responsibility to address these environmental issues?
Actually, I had that idea from the very beginning. The environment was the essential thing I wished to write about. But in terms of the shape of the piece itself, it does evolve from one theme to the other. I wanted to find a modern-day parallel to Luther's push against the corruption and excesses of the Church during his time and it seemed to me that a modern, secular equivalent might be to push against the environmental damage caused by our hyper-materialist culture.
Can you describe the wide-ranging texts you set for the chorus?
I asked writer Sarah Manguso to write a text that would be sung at the end of the piece—a hymn that might parallel Psalm 46, or Luther's "Ein feste Burg." Sarah then had the idea to incorporate these earlier texts within the piece, so we used fragments from them: first Psalm 46 in Hebrew (Old Testament), then the Latin translation (Holy Bible), then Luther's recasting of the Psalm in German, then an English translation of the Luther from the 19th century, and finally Sarah's text.
You've worked with Manguso for a number of your works in the past, including Sleepers and Dreamers and Deep-Sky Objects. In the context of this commission, which asked you to treat a specific (and religious) subject, what made you decide to bring her on board again?
I love to work with Sarah. She's a great writer. She's also flexible and happy to try different things. We both agreed that though this was a celebration of a religious movement, we wanted our piece to be secular and focus on concerns of today, while still honoring this momentous event that occurred some 500 years ago. She was both sympathetic to the idea of writing a choral piece about the environment and of embedding it within a historical context. I think her text, which combines a passionate environmental hymn with cadences from religious texts of the past, works wonderfully.
Do you feel any personal connection to Mendelssohn and his music?
Okay, I have to admit something. I've always loved Schumann, Chopin, and Schubert, but was never as taken with Mendelssohn. I had actually never heard his "Reformation" Symphony before starting this piece! That said, I came to love the piece very much. I listened to it countless times and it never failed to engage me. Indeed, it grew on me—once you get to know it, it's incredibly rich.
Watch Sebastian Currier discuss
RE-FORMATION
in this video:
https://vimeo.com/222922109/7ebe4e8dd0
> Further information on Work: RE-FORMATION
Photo: Jeffrey Herman
> News Search
Email Newsletters
Sign up for news updates and offers via email
SIGN UP
ONLINE SCORES