Steve Reich: Drumming dances with Rosas
(February 1999)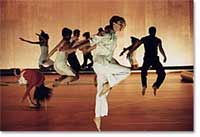 Steve Reich's minimalist classic Drumming is touring widely in a new dancework by the much admired Belgian choreographer Anne Teresa De Keersmaeker for her Rosas company. The new ballet for 16 dancers was unveiled at the Internationale Tanzwochen in Vienna last August, and has since been performed to great acclaim in Hannover, Geneva, Brussels (where Rosas is resident dance company at La Monnaie), Antwerp, Paris, Le Havre, Rouen, and Sarejevo (where it was awarded the Golden Laurel Wreath for best choreography). Further performances of Drumming are scheduled in Utrecht (16 April) and Cairo (29 June) and the work is included in touring plans for London (June), and USA, Canada and Japan (October).



De Keersmaeker's particular affinity for Reich's music dates from her 1982 ballet Fase, set to the composer's early works experimenting with phasing techniques, Come Out, Piano Phase, Violin Phase and Clapping Music. This was the dancework that De Keersmaeker chose to launch the Rosas company, danced by herself and Michèle Anne De Mey. Over the past 16 years, Fase has been performed by Rosas almost 150 times throughout the world, but it has been decided that this season's performances will be the last. A final outing for the ballet, at the special invitation of Steve Reich, is scheduled on 13 July in New York, as part of the Reich retrospective being planned by Lincoln Center (13-19 July), also to include The Cave, Tehillim, The Desert Music and Steve Reich & Musicians in Drumming.

Reich's music has long proved attractive to choreographers, with its kinetic energy, repeating patterns and abstract elegance. In addition to De Keersmaeker, major Reich ballets have been created by Eliot Feld, Laura Dean, Alvin Ailey, Lucinda Childs and Jerome Robbins in the USA, by Philip Taylor, Siobhan Davies, Jiri Kylian, Richard Alston, Hans van Manen and Mats Ek in Europe, and by Graeme Watson in Australia.
> Further information on Work: Drumming
Photo: Drumming in the choreography of Anne Teresa De Keersmaeker (image © Rosas)
> News Search