The Shop at Boosey.com relaunched with upgrade
(December 2015)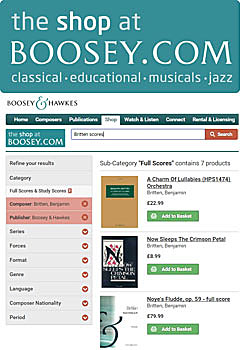 Boosey & Hawkes's shop is relaunched with a major upgrade to its website. New features include enhanced search functionality, improved page layouts, and a streamlined basket and checkout.
The world's leading online destination specializing in classical sheet music, The Shop at Boosey.com, has been relaunched with a host of improvements. The new website design makes it easy for customers to explore and purchase their music for performance, leisure or study. With a range of over 300,000 products on sale from all international publishers, the shop offers the widest choice of classical music publications, educational music, books, CDs, DVDs, accessories and gifts.

The enhanced search engine quickly delivers tagged results which can be further refined by the customer using an extensive range of filters for Category, Composer, Publisher, Series, Format and many more. Products are easily identifiable by cover image and many also carry additional information such as contents lists, sample pages and audio clips.

Both the basket and checkout have been improved and customers benefit from the latest security measures, including encryption of personal details and credit card transactions behind a 3D Secure payment wall. The Shop at Boosey.com ships globally from the UK with a range of post and courier options and offers Customer Service support by phone and email. The shop's community of over 60,000 international customers is kept informed about new releases and special offers through regular updates relating to their interests. A VIP Club with 5% discount is offered to loyal customers while registered educators benefit from a discount if spending over £25.

> Explore the new-look Shop at Boosey.com
> Explore Christmas Musical Gifts in the Shop

The Boosey & Hawkes Digital Music Store offers sheet downloads from a collection of 10,000 products, either from the Boosey & Hawkes catalogue or from other leading publishers. The Digital Music Store has recently been enhanced to include over 150 20th-century English Songs, many drawn from the archive and made newly available as sheet downloads.

> Explore the Digital Music Store

Shopping with Boosey & Hawkes
Boosey & Hawkes has built a reputation for expertise in music retailing across more than 200 years. Boosey & Sons first opened as a bookshop in 1792, focusing in the following century on the sale of music and instruments, and promoting a popular series of London concerts. William Hawkes started his music business in 1865, specialising in instruments and sheet music with sales soon spreading around the globe. Rather than competing, Leslie Boosey and Ralph Hawkes joined forces in 1930 to create a new international company. The music shop at 295 Regent Street became a regular destination for classical music shopping in London's West End until 2004 when the shop moved online to become The Shop at Boosey.com, expanding its operation to reach 60,000 customers worldwide.

The Shop at Boosey.com also provides online retail services to third party organisations and operates successful retail partnerships with ABRSM, Trinity College London and London College of Music. For further information contact david.allenby@boosey.com.
> News Search
Mailing List
Sign up for news updates and offers via email
SIGN UP
ONLINE SCORES