Turnage: Bernard Haitink to premiere Chicago Remains
(September 2007)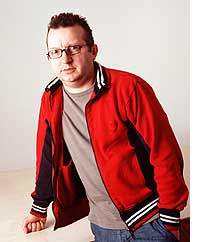 Bernard Haitink is at the helm of the Chicago Symphony Orchestra for the premiere of
Mark-Anthony Turnage
's
Chicago Remains
on 25 October. The work was commissioned by the Serge Koussevitzky Foundation as part of the composer's ongoing residency with the orchestra, and Turnage has created a vibrant 20-minute tribute to the great city.
Turnage's title draws on the fact that the Great Chicago Fire of 1871 devastated large swathes of the metropolis, with only a few examples of the old buildings remaining in the centre. The combination of these memories alongside the stunning skyscraper architecture of the late 19th and 20th centuries is an illustration of Chicago's ongoing powers of reinvention. The life force of this hub of humanity is summed up for Turnage in the collection of
Chicago Poems
(1916) by Carl Sandburg, opening with:
Hog Butcher for the World,
Tool Maker, Stacker of Wheat,
Player with Railroads and
the Nation's Freight Handler;
Stormy, husky, brawling,
City of the Big Shoulders…
The tough grandeur of the city in Sandburg's poetry finds parallels in Turnage's score, cast as a single 20-minute movement. Once the composer knew Bernard Haitink was to conduct the work, his thoughts turned to the conductor's championing of Bruckner's symphonies, and the new work seeks modern equivalents to those epic chords and chorales spaced over broad spans. The score is headed with a personal dedication to Sir John Drummond, who Turnage remembers as a staunch supporter while Director of the BBC Proms and "as a crusader for true creativity against encroaching superficiality".
A Prayer out of Stillness
Turnage's new work for bassist John Patitucci,
A Prayer out of Stillness
, is premiered on 18 October. Performances are scheduled by the work's co-commissioners: the Swedish Chamber Orchestra, the NYDD Festival in Tallinn (21 October) and the Scottish Chamber Orchestra (16 November), with the Norwegian premiere by the Trondheim Symphony Orchestra following next season.
Turnage's earlier
Bass Inventions
was written for Dave Holland who largely improvises pizzicato, whereas the new concertante work emphasises Patitucci's equal skill at arco playing and his ability to perform on both bass and six string electric bass guitar. The orchestration is restricted to unobtrusive and often lush strings allowing the double bass to sing above, and the composer has built in opportunities for Patitucci to improvise. The soloist's religious nature led Turnage to create a sequence of prayers, extending melodic material from a set of choral carols, though the third movement,
Call and Response
, is a contrasting duel between solo bass guitar and the lead double bass from the orchestra.
> Further information on Work: Chicago Remains
Photo: Hanya Chlala/ArenaPAL
> News Search
Mailing List
Sign up for news updates and offers via email
SIGN UP
ONLINE SCORES