Upcoming World Premiere: Sebastian Currier's FLEX
(October 2015)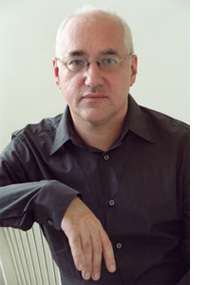 Sebastian Currier's new concerto for orchestra, written for the Cincinnati Symphony Orchestra, premieres this November.
Louis Langrée, Music Director of the Cincinnati Symphony Orchestra, has undertaken a season-long 'Concerto for Orchestra' project, commissioning three different works in the genre to be premiered during the 2015–16 season. Sebastian Currier, a recipient of one of the commissions, unveils his new work, FLEX, 19 November at Cincinnati's Music Hall.

Currier's work is inspired by the crossroads between competition and cohesion within an orchestra. Says Currier: 'An orchestra is a very complex, fine-tuned, hyper-coordinated social organization. A group of 70 or more individuals join together in coordinated actions that occur on time scales of a tenth of a second or less — no easy feat! When writing FLEX, I thought of this integration, which comes from great cooperation, but also of competition, as players, like people in general, struggle for recognition, or even dominance. And in orchestras today this happens at a very high level: nearly all players in a modern orchestra are virtuosos on their instruments. This idea of an orchestra as a dynamic relationship between competition and cooperation, became the basis for FLEX, which is essentially a concerto for orchestra.'

FLEX is in six movements. Throughout the piece, different instruments interject and repeat motives (in movements such as 'In the Spotlight,' 'Echoes, Canons, and a Minuet,' and 'Group Dynamics') in an effort to attract the most attention. As the work progresses to the final movement, the instruments 'struggle for the limelight, interrupting each other, sometimes devolving into a chaotic polyphony, but ultimately coming together into a coordinated whole — well, almost.' Currier has titled the piece FLEX 'in appreciation of the superhuman control and virtuosity of the modern instrumental player and the superhuman coordination of 70 plus individuals, with a conductor at the helm, coming together to form what we call an "orchestra."' The work is approximately 25 minutes in duration.

Also on the horizon, Sebastian Currier's recent orchestral work, Divisions, will receive its New York premiere 20 October at Carnegie Hall with Andris Nelsons and the Boston Symphony Orchestra (after performances in Boston earlier in October).
> Further information on Work: FLEX
Photo: Jeffrey Herman
> News Search
Mailing List
Sign up for news updates and offers via email
SIGN UP
ONLINE SCORES