Music While you Surf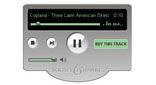 Explore the best classical music with our free radio player
LISTEN NOW
These Things Shall Be (1936-37)


Plays: 5278
for baritone (tenor) solo, chorus, and orchestra
(excerpt)
Duration: 02 mins 08 secs
Bryn Terfel/London Symphony Orchestra and Chorus/Richard Hickox
(p) and © 1990 Chandos Records Ltd
Chandos CHAN 7074
To purchase this CD from Amazon, click here now.
http://www.chandos.net
Text heard on Sample:
Solo
Nation with nation, land with land,
Unarmed shall live as comrades free;
In every brain and heart shall throb
The pulse of one fraternity.
Chorus
They shall be simple in their homes,
And splendid in their public ways,
Filling the mansions of the state
With music and with hymns of praise.
from 'A Vista' by John Addington Symonds
Further Information on this Work:
Any reproduction, publication, further distribution or public exhibition of audio materials provided at this site, in whole or in part, is strictly prohibited.