Adams and Monk World Premieres at San Francisco Symphony's American Mavericks Festival
(February 2012)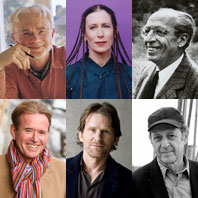 Festival will showcase pioneering american composers, including works by Copland, Del Tredici, Mackey, and Reich
Michael Tilson Thomas and the San Francisco Symphony, celebrating its 100th season, will showcase pioneering works by path-breaking American composers as part of its month-long American Mavericks Festival, including works by six Boosey & Hawkes composers: John Adams, Aaron Copland, David Del Tredici, Steven Mackey, Meredith Monk and Steve Reich. Among the many works highlighted in the Festival—to be presented March 8–30, 2012 in San Francisco, Chicago, Ann Arbor and New York—are two world premiere commissions in honor of the centenary: Absolute Jest for full orchestra and string quartet by John Adams, and Realm Variations, scored for an ensemble of instrumentalists and vocalists by Meredith Monk.

John Adams, celebrated as an icon for his distinct and propulsive musical voice, has written his first piece for the unique arrangement of orchestra with string quartet in Absolute Jest (2011). Just as Stravinsky looked to Pergolesi in writing Pulcinella, so too did Adams by looking to the scherzos in Beethoven's celebrated late string quartets. This became the basis of including the string quartet component to the orchestra, as Adams wove in fragments from the original Beethoven works. The result is, as the composer notes, "a 25-minute high energy scherzo." Absolute Jest, co-commissioned by the San Francisco Symphony and Carnegie Hall, will be premiered by the orchestra with the St. Lawrence String Quartet, March 15–17, 2012 at Davies Symphony Hall. Additional performances during the Festival are March 21 at Chicago's Orchestra Hall, March 23 at Ann Arbor's Hill Auditorium, and March 27 at New York's Carnegie Hall. The London Symphony Orchestra performs the European premiere of Absolute Jest with the St. Lawrence String Quartet in January 2013 at the Barbican Centre.

Innovative and purely original, Meredith Monk pioneered an entire genre of musical expression through her exploration of the human voice. The 2012 Musical America Composer of the Year continues to chart new terrains with her latest piece, Realm Variations (2012). The new work, to be premiered by members of the San Francisco Symphony with Meredith Monk & Vocal Ensemble, highlights the piccolo, in which the "voices are like instruments and instruments are like voices," according to the composer. Monk adds: "The work is cast as a multi-sectional single movement. The variations are not classical in the sense that a single theme is viewed from various perspectives; these variations unfurl kaleidoscopically, as the realms interpenetrate." Realm Variations will be premiered on March 18 at Davies Symphony Hall in San Francisco, with additional performances at Ann Arbor's Rackham Auditorium on March 25, and New York's Zankel Hall on March 30. Monk also performs selections from John Cage's Song Books on select dates with two other legendary vocalists: Joan La Barbara and Jessye Norman.

Also featured in the Festival are signature modernist works by Aaron Copland and David Del Tredici. Aaron Copland's Orchestral Variations, his 1957 re-imagining of Piano Variations (1930) which was composed using a 12-tone technique, is one of his most progressively modern works. The San Francisco Symphony performs the work at the opening concerts, March 8–9, at Davies Symphony Hall, and again March 22 at Ann Arbor's Hill Auditorium. A landmark work of mid-century atonalism, Syzygy (1966) by David Del Tredici sets to music two poems by James Joyce (Ecce puer and Night piece). The composer, celebrating his 75th birthday on March 16, scored the piece for two performing groups: one consisting of soprano, French horn and chimes, the other featuring a chamber orchestra. The Sunday Times (UK) in 1998 called Syzygy "the perfect demonstration of 1960s modernism as a living language." The Festival performances, featuring soprano Kiera Duffy, take place March 18 at San Francisco's Davies Symphony Hall, March 25 at Ann Arbor's Rackham Auditorium and March 29 at New York's Zankel Hall. Finally, the Festival presents Music for Pieces of Wood (1973) by the pioneering composer Steve Reich. This innovative exploration of sound, scored for five pairs of tuned claves, showcases how much can be done with simple parts, as rhythmic patterns shift and build over ten minutes Reich's work can be heard at San Francisco's Davies Symphony Hall, March 18, and at New York's Zankel Hall on March 30.

In addition to these orchestral concerts with the San Francisco Symphony, several other events are planned for the American Mavericks Festival at Carnegie Hall. The New York venue adds to the Festival a series of Neighborhood Concerts, where music by Adams (Road Movies (1995) for violin and piano and American Berserk (2001) for solo piano) and Steven Mackey (Physical Property (1992) for string quartet and electric guitar), among other composers' works, will be performed. In addition, Adams will speak with Michael Tilson Thomas and members of the St. Lawrence String Quartet on March 26 at 7:00 p.m. at WNYC's Greene Space, hosted by Q2 Music's Nadia Sirota and David Garland. This event will also be broadcast live on 105.9 FM in New York and via live webcast stream at thegreenespace.org. Q2 will also devote its programming throughout the month of March to music from the mavericks, featuring recordings and interviews with several of the Festivals' featured composers.

A special website has been created as a hub for all information pertaining to the American Mavericks Festival, featuring in-depth information about all the highlighted composers as well as audio and video interviews about their music. For more information, please visit americanmavericks.org.

> For more information about John Adams, click here.
> To view the score to Adams's Absolute Jest, click here.
> To view John Adams speaking about Absolute Jest, click here.
> For more information about Meredith Monk, click here.
> To view the score to Monk's Realm Variations, click here.
> For more information about Aaron Copland, click here.
> To view the score to Copland's Orchestral Variations, click here.
> For more information about David Del Tredici, click here.
> To view the score to Del Tredici's Syzygy, click here.
> For more information about Steve Reich, click here.
> For more information about Steven Mackey, click here.
Photo Credit: Margaretta Mitchell (Adams) / Jessie Froman (Monk) / John Ardoin (Copland) / Paula Court (Del Tredici) / Jane Richey (Mackey) / Jeffrey Herman (Reich)
> News Search
Mailing List
Sign up for news updates and offers via email
SIGN UP
ONLINE SCORES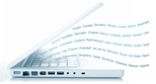 Explore our new library of over 800 online scores
VIEW SCORES
Featured Publication
Britten: War Requiem
Britten's pacifist masterwork, combining war poetry by Wilfred Owen with the Latin Requiem Mass, is included in the Masterworks Library of full scores, ideal for conductors, students and music lovers.
READ MORE