Elena Kats-Chernin: new double concerto Selenite City
(April 2011)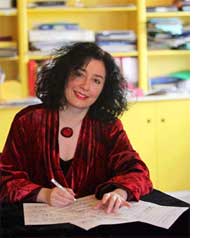 A new double concerto by Elena Kats-Chernin, Selenite City, receives first performances in London and Brisbane this year.
Australian composer Elena Kats-Chernin's new double concerto, Selenite City, receives its world premiere at Cadogan Hall in London on 15 April. The 25-minute work was commissioned by conductor Jean-Louis Gosselin for Verdandi Camerata and the orchestra is joined for the first performance by soloists Giovanni Guzzo (violin) and Anne Lovett (piano).

The Australian premiere follows at Brisbane's Powerhouse Theatre on 28 October with the Queensland Symphony Orchestra conducted by Paul Fitzsimon. Kats-Chernin is currently Composer in Residence with the Queensland Symphony Orchestra, with works featured in three concerts across the 2011 season.

Elena Kats-Chernin describes the unique challenges in writing the double concerto: "Not only is there the interplay between orchestra and a soloist, but also between the two soloists as well as the duo and the orchestra, so I tried to approach this piece from all three angles. Beyond this the main task was to be true to the request to write a piece that would fit into the theme of light.

"A friend of mine showed me a unique collection of crystal stones, one of which was a selenite and when you held it up to the light it glowed with a beautiful rainbow of shimmering colours, while at the same time being somewhat transparent and magical. Looking at this collection I imagined a city with all the buildings made up of this stone, which would make the whole city look as if it was made of ice. I decided to create a piece with this image in my head. The first movement is Selenite City by Day: in the day the city would look bright and sunny and unmelting, while in the night (second movement Selenite City by Night) it would glow in a yellow, blue and green mellow light. The first movement is edgy, fast and bright and sometimes relentless, while the second has a dark bluesy feel - especially at the beginning."

Elena Kats-Chernin is a truly cosmopolitan composer. Born in 1957 in Tashkent (Uzbekistan), she received training at the Gnesin Musical College before immigrating to Australia in 1975. She graduated from the New South Wales Conservatory in 1981 and was awarded a DAAD (German academic exchange) grant to study with Helmut Lachenmann in Hanover. She remained in Germany for 13 years, returning in 1994 to Australia where she now lives in Sydney. One of Australia's leading composers, Elena Kats-Chernin has created works in nearly every genre.

Recent works include the concerto for basset horn and chamber orchestra Ornamental Air which has been toured internationally by Michael Collins, the opera The Rage of Life, staged in Belgium, Holland, Hungary and Germany last year, and Re-collecting ASTORoids, an orchestral suite inspired by the music of Tango Nuevo master Astor Piazzolla, which received its first complete performance by the Queensland Symphony Orchestra in February. Her new vocal work for the King's Singers, River's Lament, is premiered at the Mansion House in London on 7 July.

Kats-Chernin's music continues to be heard on TV and at the cinema in the UK with the long-running Lloyds TSB advertising campaign For the journey… employing the Eliza Aria from her ballet Wild Swans.

> Verdandi Camerata
> Queensland Symphony Orchestra residency
> Further information on Work: Selenite City
> News Search
Mailing List
Sign up for news updates and offers via email
SIGN UP
ONLINE SCORES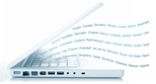 Explore our new library of over 800 online scores
VIEW SCORES
WAR & PEACE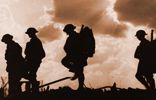 As we approach the centenary of the First World War (1914-18), explore music suitable for commemorative features.
EXPLORE WAR & PEACE