Panufnik, Andrzej
:
Autumn Music
(1962, rev.1965) 17'
for orchestra
Scoring
3fl.3cl-perc(2):glsp/tgl/BD/SD/TD-harp-cel-pft-strings(0.0.6.6.4 or 0.0.3.3.2).
Abbreviations
(PDF).
Territory
This work is available from Boosey & Hawkes for the world.
World Premiere
16/01/1968
Paris
L'Orchestre Philharmonique de l'ORTF / Serge Fournier
Composer's Notes
Autumn Music
was composed in memory of a friend, who, after a long, incurable illness, experienced her last autumn in 1960. Writing this work, I was responding to the end of a suffering human life and to the season of autumn, with all its manifestations in nature.
This composition is of symmetrical construction, and, like a triptych, is hinged together by two very short interludes. The symmetrical design of the whole work is also emphasized by its texture, rhythm, tempo and dynamics. For example, the first section reflects the last one, as they have the same andante tempo as well as an almost identical rhythm - and the dynamics too are similar. The second, middle section is the axis of the symmetry, and within itself is written in mirror form. It starts very slowly and quietly with double basses. Then all the other instruments gradually follow in canonic form. The slow, steady increase of tension is brought about both by a gradual acceleration of tempo and the crescendo of all instruments (except piano) until the climax is reached - at which point the music seems to pause and vibrate statically for a moment, before the reverse image in the mirror starts with the gradual slowing down of speed and the reduction of instruments, until we are back again to just the double basses, as at the beginning of the section. In fact this whole section is built on one repeated note played on the piano in the lowest register. These sounds are as regular as the striking of a clock, perhaps suggesting the ruthless passing of time, the shortening of the life of a human being - and at the same time, the relentless progression of nature in autumn, the season of decline.
Regarding the musical language, I imposed upon myself a particularly strict discipline in order to achieve a unity of style in
Autumn Music
. The material of the whole work consists of the germ-cells of only three intervals. The first section is based on two of the germ-cell intervals, major and minor seconds, and so is the second short interlude. The last section is based mainly on the minor third and minor second, corresponding with the first interlude. In the middle section, which is contrasting in character to the first and last, the telescoped melodic lines are taken from a chord built on thirds only.
Andrzej Panufnik


For further details see
www.panufnik.com
Reproduction Rights

This programme note can be reproduced free of charge in concert programmes with a credit to the composer
Recommended Recording
London Symphony Orchestra/Jascha Horenstein
Unicorn-Kanchana UKCD 2016
Click here to purchase this CD set from Amazon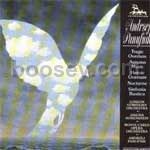 Mailing List
Sign up for news updates and offers via email
SIGN UP
ONLINE SCORES