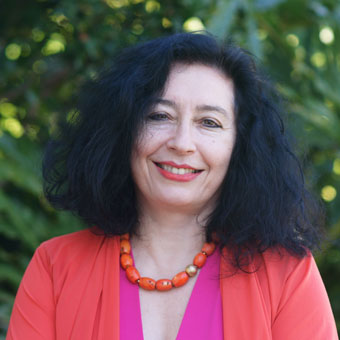 Elena Kats-Chernin
b. 4 November 1957, Tashkent, Uzbekistan
Elena Kats-Chernin is one of the most cosmopolitan composers working today, having reached millions of listeners worldwide through her prolific catalogue of works for theater, ballet, orchestra, and chamber ensemble. Her dramatically vivid music communicates a mixture of lightheartedness and heavy melancholy, combining strong rhythmic figures with elements of cabaret, tango, ragtime, and klezmer.
Born in 1957 in Tashkent (Uzbekistan), Kats-Chernin received training at the Gnessin Musical College before immigrating to Australia in 1975. She graduated from the New South Wales Conservatory in 1980 and was awarded a DAAD (German academic exchange) grant to study with Helmut Lachenmann in Hanover. She remained in Germany for 13 years, returning in 1994 to Australia where she now lives in Sydney.
One of Australia's leading composers, Elena Kats-Chernin has created works in nearly every genre. Among her many commissions are pieces for Ensemble Modern, the Bang on a Can All-Stars, the Australian Chamber Orchestra, the Adelaide, Tasmanian, Queensland and Sydney Symphony Orchestras, Present Music, City of London Sinfonia, Swedish Chamber Orchestra, Berliner Philharmoniker, and the operas of Sydney, Stuttgart, Antwerp and Kassel, to name only a few.
Her brilliantly scored, energetic, and often propulsive music has been choreographed by dance-makers around the world. In 2000 she collaborated with leading Australian choreographer Meryl Tankard in a series of large-scale dance works. The first of these, Deep Sea Dreaming, was broadcast to an audience of millions worldwide as part of the opening ceremonies of the Sydney 2000 Olympic Games.
The dance piece Three Dancers, choreographed by Didy Veldman, to Elena's music had been premiered at Sadler's Wells, London, in 2015. In 2016 Shobana Jeyasingh's dance work Material Men redux was premiered with Elena Kats-Chernin's score performed by Smith String Quartet; the original, shorter version of this piece entitled *Material Men *had been premiered a year earlier at the Southbank Centre in London.
Kats-Chernin's music was heard on TV and at the cinema in the UK with the long-running Lloyds TSB advertising campaign "For the journey…" employing *Eliza Aria *from her ballet music to Meryl Tankard's Wild Swans. Her piece Russian Rag became Max's theme in the claymation film "Max & Mary" by Adam Elliott.
In 2011 Kats-Chernin was appointed Composer-in-Residence with the Queensland Symphony Orchestra. Her first symphony, Symphonia Eluvium for organ, choir and orchestra commemorating the devastating Queensland floods of January 2011, was premiered that year by QSO conducted by Asher Fisch at the Brisbane Festival. In 2012, the work was voted by the readers of the Australian monthly performing arts journal Limelight as the best composition of the year.
She was a composer-in-residence this year with the Melbourne Symphony Orchestra in 2017, represented by five performances of her work, including two premieres (the harpsichord concerto Ancient Letters, and Big Rhap).
One of Elena Kats-Chernin's major premieres was her adaptation of Monteverdi's three operas (Orpheus, Odysseus, Poppea) at the Komische Oper Berlin, directed by Barrie Kosky, in September 2012 – a 12 hour Marathon performance with live telecast on 3sat TV. Her opera Schneewittchen und die 77 Zwerge followed at Komische Oper Berlin in 2015.
In January 2014, her music for the drama Frankenstein at the Sydney Ensemble Theatre won jointly the "Sydney Theatre Award 2013 for best score". In March 2014 she was a joint winner of Sidney Myer Performing Arts Award.
Her TV opera in 4 episodes The Divorce was nominated for ACCTA (The Australian Academy of Cinema and Television Arts Awards) in category best music for television. It was produced by the Opera Australia, ABC TV and Princess Pictures and broadcast in December 2015 on ABC TV. The cast included Kate Miller-Heidke and Meow Meow.
Elena Kats-Chernin was one of the subjects of a "Creative Minds" 6 episode series of artist's portraits. The documentary by Robin Hughes was made for Australian TV's STUDIO channel. A CD of her complete music for string quartet, performed by Acacia, was released under the title "Blue Silence" by Vexations840 in 2012.
Kats-Chernin's CD Butterflying (4 hands piano works with Tamara-Anna Cislowska, ABC Classics) was at the top of ARIA Classical Core Chart for 13 weeks, reaching nr 1 in September 2016. Her most recent recording unsent love letters—meditations on Erik Satie (Tamara-Anna Cislowska, piano solo, on ABC Classics) debuted at nr 1 on the ARIA Classical Chart in March 2017. In April 2017 this album got released on the Deutsche Grammophon label.
Among her most recent premieres was A Knock One Night, completed in 2018 for the Australian Chamber Orchestra, as well as Piano Concerto No.3 'Lebewohl', permiered by Tamara-Anna Cislowska with the Queensland Symphony Orchestra under the baton of Alondra de la Parra.
Elena's Whiteley on the life of autralian painter Brett Whiteley was presented in July 2019 Opera Australia – the organization's first opera world premiere since 10 years.
The 2019/20 season sees not lees than three nwe children's operas: Jim Knopf and Lukas the Engine Driver, based on the award-winning book by Michael Ende, opens at Komische Oper in Berlin in November; for Philharmonie Luxembourg, she adapts the fairytale East of the Sun and West of the Moon (January); and Elena's version of The Wind in the Willows, the first opera based on the book classic, receives its world premiere at Staatstheater Kassel in June 2020)
Elena Kats-Chernin's music is published exclusively by Boosey & Hawkes.
August 2019
This biography can be reproduced free of charge in concert programmes with the following credit: Reprinted by kind permission of Boosey & Hawkes