Britten's coronation opera Gloriana returns to the stage
(June 2012)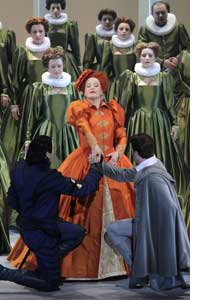 Benjamin Britten's Gloriana, commissioned for Queen Elizabeth II's coronation celebrations, is enjoying a return to the stage in Prague, Hamburg and London.
Benjamin Britten's opera Gloriana, which received its Czech premiere in April in Jirí Herman's new production at the Prague National Theatre, is one of Britten's operas most ripe for exploration during the forthcoming centenary.

The opera's not fully flattering portrayal of Elizabeth I prompted official disfavour at its premiere at Covent Garden as part of Queen Elizabeth II's coronation pageant. But after decades of neglect the work has enjoyed notable revivals in the UK and USA since the 1990s, as directors and audiences have warmed to its complex treatment of the monarch. As the Prague Post noted of the recent staging, "the queen is portrayed as a flawed character struggling under the weight of her responsibility, and Gloriana is ultimately a tragedy that reveals the psychology hidden beneath the crown".

"Britten's orchestration is brilliant, with fluttering woodwinds, ominous brass and sharp percussion supplying the drama and tension… Individual instruments or sections of the orchestra are used to create mood, atmosphere and emotion, often in clever, unexpected turns or phrases. And the fluency the composer shows across genres is remarkable, ranging from charming Renaissance dances to sacred choral music to great, glowing Wagnerian fanfares."
Prague Culture

The centenary brings what promises to be a significant new production of Gloriana by Richard Jones. Shared between The Royal Opera in London and the Hamburg Staatsoper, the staging is unveiled in Hamburg on 24 March 2013 conducted by Simone Young and the opera returns to its birthplace in Covent Garden on 20 June under the baton of Paul Daniel. Heading the cast in London are Susan Bullock as Elizabeth I and Toby Spence as the Earl of Essex. Concert programmes for Britten's 2013 celebrations will feature the popular extracts drawn from the opera: the Symphonic Suite, the Courtly Dances and the Choral Dances.

> Weitere Informationen zum Werk: Gloriana
Photo: Hana Smejkalova/Prague National Theatre
> Nachrichtensuche