Karl Jenkins: signs new recording contract with DG
(March 2013)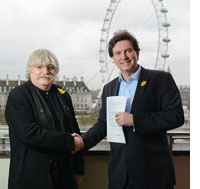 Karl Jenkins has signed a new recording contract with Deutsche Grammophon: the first release will be Adiemus Colores embracing South American culture.
Deutsche Grammophon announced the signing of the celebrated Welsh composer Karl Jenkins on St David's Day in London. The new partnership between the iconic 'Yellow Label' and the composer of Adiemus, The Armed Man and Requiem is already bearing fruit, as Jenkins revealed details of an exciting new recording with a truly international flavour - Adiemus Colores to be released in July.

Karl Jenkins first achieved international success with Adiemus in 1995, familiar through extensive use in advertising and quickly becoming a global recording phenomenon. Adiemus: Songs of Sanctuary sold 1.5 million albums around the world, and established a series of highly successful Adiemus releases and a sequence of new contemporary classical works for choir and orchestra. Ten years have now passed since the last Adiemus release, and for this, his Deutsche Grammophon debut, Jenkins sought inspiration both from his musical past, and from the sights, sounds, colours and rhythms of Latin American music. The result is Adiemus Colores – a special, fantasy-filled musical journey.

Karl Jenkins said: "A South American spark that helped kindle the flame that became Adiemus Colores is the fascination that the people of Wales, myself included, have with the romance of Patagonia - that area occupying the southernmost tip of Argentina where there is a Welsh-speaking settlement, dating from 1865. In fact the Welsh word for this area, Y Wladfa, translates as 'The Colony'. Adiemus Colores is music of fantasy which happily embraces elements of South American culture. I firmly believe that the future of music lies in a plurality of styles, each composer and each listener true to themselves and to the music that moves them; that expresses our emotions and the world we live in today."

President of Deutsche Grammophon, Mark Wilkinson, said: "I have long admired how Karl has managed to bring his own special brand of contemporary music to a wide audience, and we are delighted to have the opportunity to work with him."

On joining the revered, Berlin-based label, Jenkins said: "I sincerely hope I can bring something unique to the partnership. It would be very easy to launch a raft of platitudes on such an occasion, but I genuinely feel privileged and humbled in being given this opportunity to embark on an exciting creative partnership with Deutsche Grammophon. The "Yellow Label" has been with me since Karajan's 1963 Beethoven cycle and many cherished DG recordings have been a source of inspiration since then."

Adiemus Colores is now available to pre-order and will be released on 8 July 2013.
> Weitere Informationen zum Werk: Adiemus Colores
Photo: Karl Jenkins signing his Deutsche Grammophon contract with Mark Wilkinson (image DG/Chris O'Donovan)
> Nachrichtensuche