Brett Dean: new choral works from birth to death
(February 2013)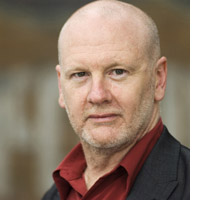 Brett Dean's catalogue of works with choir has expanded with The Annunciation premiered at the Thomaskirche in Leipzig in December, and The Last Days of Socrates to be premiered by the Berlin Philharmonic and Radio Choir in April under the baton of Simon Rattle.
Brett Dean has composed two new scores for chorus and orchestra which jump the lifespan from conception to death. The St Thomas Boys Choir in Leipzig celebrated its 800th anniversary with a commission from the city's Bach Archive and Dean's resulting work, The Annunciation, was premiered at the Thomaskirche with members of the Gewandhaus Orchestra on 22 December with a further performance on Christmas Day.

The festive 25-minute work combines verses from Numbers with three poems by Australian writer Graeme William Ellis which explore themes of light and love, following the star, experiencing the Nativity and praising the newborn Messiah. Triple symbolism is embedded in the score, with references to the Three Kings and the Trinity and supported by three-part divisions in the SATB choral writing and within the chamber orchestra's clarinets, horns, violas and cellos (plus harp and double basses).

Simon Rattle conducts the premiere of Dean's The Last Days of Socrates on 25 April with the Rundfunkchor Berlin and Berliner Philharmoniker joined by bass-baritone John Tomlinson in the role of the philosopher. This 35-minute cantata, again with text by Graeme William Ellis, is co-commissioned by the Los Angeles Philharmonic and the Melbourne Symphony Orchestra. After a prelude appealing to the goddess Athena, the central movement sees Socrates standing trial with a double chorus accusing him of corrupting the city's youth and following his own gods. The philosopher defends his right to an enquiring mind and freedom of speech, but the votes are cast and he is condemned to death. The final movement depicts Socrates drinking from the hemlock cup surrounded by his pupils.
> Weitere Informationen zum Werk: The Last Days of Socrates
Photo: Mark Coulson
> Nachrichtensuche