Cherubini: X-ray sleuthing rediscovers missing Médée aria
(June 2013)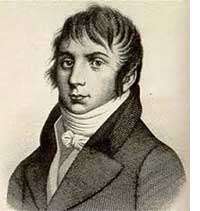 The closing section of an aria from Cherubini's opera Médée, rediscovered thanks to X-ray research by scientists at Stanford University, is included in the acclaimed new Simrock edition of the opera.
Cherubini's most popular opera, Médée, was in the news recently when Stanford University described how X-ray examinations at the SLAC National Accelerator Laboratory were able to contribute to the completion of the opera:
> news.stanford.edu/pr/2013/pr-slac-music-xray-061013.html

The closing section of the important aria which precedes the opera's finale was allegedly blackened out by the composer in a fit of pique when critics complained about the opera's length. Rendering the notation illegible, the opera was for centuries performed without this music until scientists revealed the hidden notes afresh.

The research results from Stanford found their way into the new critical edition of Cherubini's Médée published by Simrock, which offers the opportunity for the entire work to be performed. In this edition, edited by Heiko Cullmann, the opera, which numbers among the central works of the genre, is presented for the first time in the original form intended by the composer, removing the unstylistic recitatives added later and restoring the spoken dialogue. The performance material, available on rental, has received the coveted German Music Edition Prize. Stage productions with top-class casts could already be experienced in Vienna, Brussels, and Paris, and a new production is in preparation in Bielefeld. A live video recording of the Parisian performance was released on DVD by BelAir in 2012, and a few weeks ago the complete vocal score of the opera became available on sale.

Aside from the bars revealed in Stanford (the conclusion of Aria no. 14 "Du trouble affreux"), the edition includes numerous previously unknown sections that were reconstructed with the help of the original sources. These include parts of the overture, several arias and duets, and the finale of the third act. Also included are libretto variants and concert versions of the overture, Médée and Jason's duet (no. 7), and the finale of the second act.

>View the new vocal score

Médée is a part of the extensive edition of Cherubini's works being issued by Simrock in conjunction with the International Luigi Cherubini Society.

See http://www.boosey.com/Cherubini for more information.


> Weitere Informationen zum Werk: Médée
> Nachrichtensuche