Panufnik at the BBC Proms: upbeat to centenary year
(August 2013)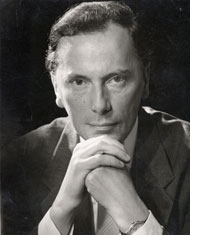 The BBC Proms features two works by Andrzej Panufnik on 23 August, providing an upbeat to the composer's centenary year celebrated in 2014.
Two orchestral works by Andrzej Panufnik are featured in the BBC Proms programme on 23 August at the Royal Albert Hall in London. The concert is performed by the Warsaw Philharmonic Orchestra and conductor Antoni Wit, making their Proms debuts, continuing this season's focus on Polish music. The inclusion of both Lutoslawski and Panufnik on the programme sees a handing over of the baton, from Lutoslawski's centenary celebrated this year, to Panufnik's centenary next year.

Panufnik describes how the Tragic Overture was composed in wartime Warsaw in 1941, "under the influence of the fear and horror of our daily life, and my agonizing sense of worse things to come. Tragic indeed was the fate of Warsaw - in 1943, the Nazi destruction of the Ghetto, and in 1944 the Warsaw Uprising, when the Russian Army, right close to the city gates, passively watched the Germans systematically flattening almost the whole of Warsaw, killing over a quarter of a million defenceless Polish men, women and children. During this uprising, I lost my Tragic Overture together with every note of music I had ever composed in my first thirty years of life." The work was reconstructed by Panufnik after the war in memory of his brother who lost his life in the Uprising.

Panufnik's Lullaby, composed in 1947, was a milestone in the development of Polish contemporary music, with its layered construction and use of quartertones. The composer recounts how on a visit to London he stood on Waterloo Bridge at night and observed "the river's flow and the night sky over the misty city" and how this prompted music composed on three planes: "a pulsating rhythm of harps to correspond to the flow of the river; a group of solo string instruments, some moving in quartertones, for the drifting clouds; and above, like the moon which was also looking down on Poland, the song of a Polish peasant, based almost entirely on the pentatonic scale."

The latest release in CPO's recorded survey of Panufnik's orchestral music, volume 6, features the Concertino for Timpani, Percussion and Strings coupled with his 9th symphony, Sinfonia della Speranza, with Lukasz Borowicz conducting the Berlin Konzerthaus Orchestra (CPO 777685-2). The series is planned to be completed in the coming half-year so a box set can be released to celebrate the composer's centenary.

For full information on Panufnik and his centenary visit www.boosey.com/panufnik and www.panufnik.com.

For an introduction to Panufnik's music with a selection of audio clips, visit www.boosey.com/panufnik100.
> Weitere Informationen zum Werk: Tragic Overture
Photo: Camilla Jessel
> Nachrichtensuche