Rachmaninoff: new orchestral arrangements
(September 2013)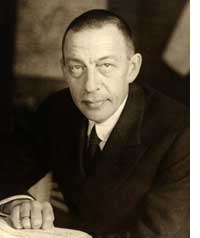 The Rachmaninoff orchestral catalogue is expanded with a selection of recent arrangements of his piano and vocal works.
The catalogue of Serge Rachmaninoff works with orchestra is swelled with a number of attractive arrangements of his piano and vocal works. Long established in the repertoire is Respighi's 1930 version of five of the composer's Etudes-tableaux, and arrangers, many of whom are also conductors, have continued to be drawn to create new orchestrations.

Boosey & Hawkes is soon to publish Corneliu Dumbraveanu's orchestration of the Variations on a Theme of Corelli, scored for small orchestra with double woodwind. This arrangement has been programmed regularly by Neeme Järvi, most recently last year with the London Philharmonic Orchestra in an all-Rachmaninoff programme, and can be heard on his 1994 Chandos recording with the Detroit Symphony Orchestra. Kazushi Ono and Kristjan Järvi have also scheduled performances this season.

Other recent additions to the Boosey & Hawkes Rachmaninoff catalogue have been José Serebrier's new version of Vocalise, offering a chamber orchestra alternative to the composer's own, as featured on his Warner Classics album. Ten Rachmaninoff songs transcribed in 1963 for voice and orchestra by Vladimir Jurowski (senior) were revived in Sweden in 2011 conducted by his son Michail, and a song from the collection is programmed by Andris Nelsons with the Tonhalle Orchestra. Pieces from the Six Morceaux op.11 were recently transcribed by Arkady Leytush and orchestrated versions of Suite No.2, originally for two pianos, are available from both Dumbraveanu and Leytush.

For further information on Rachmaninoff orchestral arrangements please email composers.uk@boosey.com.
Photo: Peter Joslin/ArenaPAL
> Nachrichtensuche