Meredith Monk Announced as Carnegie Hall's Debs Composer's Chair for 2014–15 Season
(February 2014)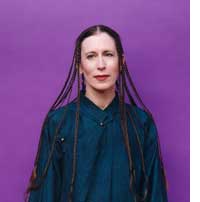 Upcoming: Musica Sacra will also present Meredith Monk in concert on March 31
Trailblazing composer-performer Meredith Monk was recently announced as the holder of Carnegie Hall's Richard and Barbara Debs Composer's Chair for the upcoming 2014–15 season. A pioneer of extended vocal techniques, Monk has performed in solo and ensemble performances around the world for five decades. Monk was named Musical America's 2012 Composer of the Year, and has received numerous awards including a MacArthur "Genius Grant," two Guggenheim Fellowships, sixteen ASCAP Awards for Musical Composition, the 2005 ASCAP Concert Music Award, the Demetrio Stratos Award in 2007, and was inducted into the American Academy of Arts and Sciences in 2006.

Monk's Carnegie Hall residency will include five events (as well as a kick-off concert at (Le) Poisson Rouge) that highlight her oeuvre, featuring the New York premieres of Weave with the St. Louis Symphony on March 20, 2015 and a new work commissioned by Carnegie Hall performed by Ensemble ACJW on February 16, 2015. In addition, the American Composers Orchestra along with members of Meredith Monk and Vocal Ensemble will perform her Night for eight voices and chamber orchestra on November 21, 2014. On March 22, Meredith Monk and Vocal Ensemble invite musical guests from the new music, classical, jazz, and DJ worlds for a concert featuring music from her opera, Atlas, selections from Songs of Ascension, and new arrangements and interpretations of existing works. Monk's residency culminates in a 50th Anniversary Concert on May 2, 2015, celebrating her five decades of creating work in New York. The program features selections from newer works—On Behalf of Nature, impermanence, and Mercy—as well as other compositions.

For a complete listing of Carnegie Hall's events, click here.

To see Meredith Monk discuss her Carnegie Hall residency, click here.

Ahead of her residency at Carnegie Hall, Musica Sacra will feature Monk in an event on March 31, 2014 at Lincoln Center's Alice Tully Hall in observance of Women's History Month alongside composer Jocelyn Hagen. The concert will include the performance of Monk's Nightfall, selections from Atlas – Part III: Invisible Light, and Facing North.

For more information on Musica Sacra's March 31 event, click here.


Photo: Froman Hamburg
> Nachrichtensuche