Britten towards 2013: new web documentaries
(April 2009)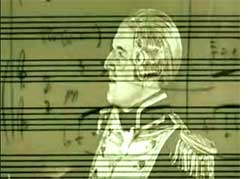 As part of the run-up to the 2013 centenary of Benjamin Britten's birth, the Britten-Pears Foundation is producing a series of documentary films, which are available to presenters for pre-performance events, on web sites, in foyers and within special exhibitions. Films on Billy Budd and War Requiem have been released and Noye's Fludde is nearing completion. Each video explores the genesis of the work through radio recordings, performance film footage, and documents and photos from the BPF archive.

>View Billy Budd documentary
>View War Requiem documentary

The Britten-Pears Foundation has officially launched its campaign to mark 'Britten 100' in 1913, in conjunction with publishers Boosey & Hawkes and Faber Music. The first issue of News from the Red House, providing twice yearly updates of plans and projects, has just been published by the BPF, and is available to presenters and performers in print or electronic formats on request from reveal@brittenpears.org.

Many opera companies, including Hamburg State Opera, Houston Grand Opera and Opera North, are building up their Britten repertoire to perform over a number of seasons in the lead-up to 2013. With anniversaries of three operatic greats – Verdi, Wagner and Britten – all co-inciding in the same year, 2013 provides a unique programming opportunity for celebrating their achievements.

You are welcome to discuss your plans for the Britten Centenary with us by contacting the Promotion Department at composers@boosey.com. We can provide information on Britten-related themes for programming, suggest wider contexts for his music, and detail rare repertoire suitable for centenary performance.
> Weitere Informationen zum Werk: Billy Budd (revised 2-Act version)
Video image: Britten-Pears Foundation
> Nachrichtensuche