John Adams: Death of Klinghoffer reviews from Saint Louis
(September 2011)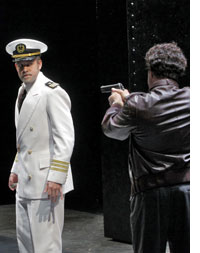 John Adams's The Death of Klinghoffer returned to the US stage in June with an acclaimed production at Opera Theatre of Saint Louis.
John Adams's opera The Death of Klinghoffer, a dramatic reflection on the issues surrounding the 1985 terrorist hijacking of the cruise liner Achille Lauro, received a powerful new production at the Opera Theatre of Saint Louis in June, which has prompted a reappraisal of the work in North America. Though the work has received regular European productions, with 70 performances in nine countries since its premiere in 1991, the St Louis staging was the first full US production in 20 years.

To prepare its audience for the production, OTSL invited the formation of a 12-member interfaith steering committee to work with the company on education and outreach, including a public panel discussion and a project with Jewish and Muslim teenagers. Musical America noted how James Robinson's production avoided polemics, instead focusing "on the human tragedies that shaped both Palestinians and Israelis and led to the Achille Lauro incident and other collisions. The balanced staging makes it easier to focus on Adams' score, alternately lyrical and tension-filled, and on Alice Goodman's richly meaningful text."

"The controversy surrounding The Death of Klinghoffer will probably never go away, nor should it, given that the work deals openly with political and spiritual crises that are still very much a part of everyday life. But what the opera has to say is worth hearing; here, an immediate ovation reached its thunderous apex when Mr. Adams took the stage for an unambiguous hero's welcome."
New York Times

"OTSL's thoughtful and sensitive staging should go a long way toward opening minds about Klinghoffer. More an oratorio than an opera, the piece does not take sides (which to some people means that it is taking sides). Rather, it explores the theme of exile, and demonstrates how historical resentments fester and explode in modern individuals ... Mr. Adams's music, some of his most beautiful and passionate, follows the same arc, with dreamlike, flowing passages interrupted by sharp, dramatically etched moments of fury and fear."
Wall Street Journal

"…a gripping and eerily beautiful work"
Associated Press

"Adams and his librettist, Alice Goodman, crafted a nuanced meditation on Middle East violence and religious intolerance, examining the complex social, economic and political conditioning that drives acts of unspeakable inhumanity… At the performance I attended last weekend, there were no protests, only cheers. Klinghoffer's time has come. We can now see it for what it is, a landmark in late 20th century American opera."
Chicago Tribune

English National Opera will present the first London staging of The Death of Klinghoffer in a new production by Tom Morris in February. Another European opera highlight this season will be the Finnish premiere of Doctor Atomic in Helsinki in November. In the US, following Nixon in China's long-awaited arrival at the Metropolitan Opera last February, a further new production has been announced at San Francisco Opera next June. A Flowering Tree, in an admired new staging at Cincinnati Opera this summer, was described as "Adams' most sensuous, spacious and evocative score" (Cincinnati Enquirer).
> Weitere Informationen zum Werk: The Death of Klinghoffer
Photo: The Death of Klinghoffer at Opera Theatre of Saint Louis (Ken Howard)
> Nachrichtensuche