Golijov Showcases in Buenos Aires and Bogotá
(February 2012)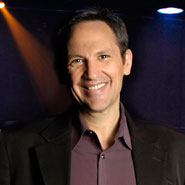 Argentine Premiere of La Pasión Según San Marcos in Buenos Aires in March; Colombian Premiere of Ainadamar in Bogotá in July
Two of Argentine composer Osvaldo Golijov's most soulful and celebrated works, his large-scale oratorio La Pasión Según San Marcos and opera Ainadamar, will be presented in their regional premieres in South American theaters in 2012.

Buenos Aires's Teatro Colón opens their 2012 season with La Pasión Según San Marcos (2000), Golijov's retelling of St. Mark's Passion, vibrantly re-imagined with Latin American folk music, African drumming, flamenco melodies and Spanish poetry. María Guinand leads the Schola Cantorum de Venezuela, Orquesta La Pasión, mezzo-soprano Luciana Souza and others in this production (March 14, 15, 17 and 18) which marks the debut performances of Golijov's oratorio in his home country of Argentina.

Critics have cheered this large-scale oratorio since its premiere more than 10 years ago. The Independent (UK) stated: "It's easy to understand why Osvaldo Golijov's La Pasión Según San Marcos received a 30-minute ovation at its 2000 Stuttgart premiere: a transferral of the Easter story to Latin America, it's a vibrant, sonically colorful experience in which the native South American strains of samba, tango and salsa contribute as much as the orchestral and choral elements…the result is an engaging tapestry in which demotic forms and religious chorale combine with piquant, astringent energy." La Pasión Según San Marcos will be staged at New York's Carnegie Hall in March 2013, featured as part of Golijov's tenure as the venue's Debs Composer Chair during the 2012-13 season.

Ainadamar (2003), Golijov's opera based on the life of the famous Spanish poet Federico García Lorca, receives its Colombian premiere (July 13 and 14, 2012) by the Ópera del Teatro Argentino de la Plata at the Teatro Mayor Julio Mario Santo Domingo in Bogotá. This evocative yet heartbreaking opera filled with colorful music features a hybrid of musical styles, including flamenco, jazz, klezmer and salsa, along with a libretto by the playwright David Henry Hwang. Ainadamar was most recently staged at a festival in Granada, Spain, the city in which Lorca tragically died. Ideal de Granada noted the work as "…a scenic wonder that will remain etched in the record books… an opera of bold music with a suggestive, evocative text…" Ainadamar will be staged in Long Beach, California, May 19 and 26 by the Long Beach Opera, followed by ten performances in July at Madrid's Teatro Real, directed by Peter Sellars.

> For more information about Osvaldo Golijov, click here.
> For more information on La Pasión Según San Marcos, click here.
> To view the score to La Pasión Según San Marcos, click here.
> For audio excerpts and a video about La Pasión Según San Marcos, click here.
> For more information on Ainadamar, click here.
> To view the score to Ainadamar, click here.

Photo Credit: Tanit Sakakini
> Nachrichtensuche