Browse our list of new recordings. For a complete list of recordings please visit our Recordings Search.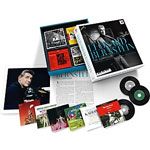 Leonard Bernstein

LEONARD BERNSTEIN - The Composer
25 CDs in LP-sized special edition with book
Unsurpassed recordings of Bernstein's essential symphonies, concert & theatre works, ballets and songs
Sony Classical 88985345312

Buy this CD box from Aazon
---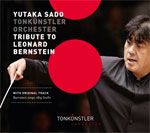 Leonard Bernstein

'Tribute to Leonard Bernstein'
Candide Overture / Symphonic Dances from West Side Story / On the Waterfront Suite / Fancy Free
Tonkünstler-Orchester / Yutaka Sado (Grafenegg 2016)
TON1002

Buy this CD from Amazon
---
Boris Blacher

Chamber Music (new & historical recordings)
Sonata for solo violin / Sonata for violin and piano / Sonata for cello and piano
24 Preludes for piano / Piano Sonatas Nos.1&2 / 2 Toccatas
Kolja Blacher / Eberhard Finke / Gerty Herzog
Quintet for flute, oboe and string trio
Ernst-Burghard Hilse / Dominik Wollenweber / Florian Donderer / Martin Stegner / Knut Weber
Phil.harmonie 06029 (2 CDs)

Buy this CD box from Amazon
---
Johannes Boris Borowski

Dex / Piano Trio
Zafraan Ensemble / Titus Engel
bastille musique bm4

Available at bastillemusique.de
---
Johannes Boris Borowski

Piano Trio
Trio Steuermann
Editions Hortus 130

Buy this CD from Amazon France
---
Johannes Boris Borowski

Sérac
SWR Sinfonieorchester Baden-Baden und Freiburg / Peter Eötvös (Donaueschinger Musiktage 2015)
NEOS 11611-12

Available at neos-music.com
---
Walter Braunfels

Drei chinesische Gesänge / Von der Liebe süß' und bittrer Frucht
Camilla Nylund / Ricarda Merbeth / Konzerthausorchester Berlin / Hansjörg Albrecht
OehmsClassics OC 1847

Buy this CD fom Amazon
---
Walter Braunfels

Goethe-Lieder / Zwei Lieder nach Hans Carossa
Marlis Petersen, soprano / Eric Schneider, piano
Capriccio C5251

Buy this CD from Amazon
---
Walter Braunfels

Symphonic Variations on an Old French Nursery Song
Philharmonisches Orchester Altenburg-Gera / Markus L. Frank
Capriccio C5250

Buy this CD from Amazon
---
Benjamin Britten

Benjamin Britten - Serenade for Tenor, Horn, & Strings
Also features Gerald Finzi's Dies Natalis
Mark Padmore / Britten Sinfonia
© 2012 Harmonia Mundi HMU807552

Click here to purchase this album from Harmonia Mundi.
---
Benjamin Britten

Les Illuminations
Eva Resch, soprano / François Salignat, piano
Genuin Classics GEN 16430

Buy this CD from Amazon
---
Benjamin Britten

Phantasy Quartet
The Berlin Oboe Quartet: Nigel Shore, oboe / Florian Donderer, violin / Brett Dean, viola / Anna Carewe, cello
Costa Records CR005

Available at www.costarecords.com
---
Mailing List
Sign up for news updates and offers via email
SIGN UP
ONLINE SCORES