Explore keyboard music
We invite you to explore our unsurpassed catalogue of keyboard music, ranging from classic repertoire by virtuoso pianist composers such as Rachmaninoff, Bartók and Prokofieff, to the latest educational music including the acclaimed Microjazz series by Christopher Norton.
20th century Repertoire
Leading composers of 20th century keyboard music include:

Bartók wrote extensively for piano, from his Mikrokosmos books developing the skills of piano students, to his three concertos which are favourites with star pianists around the world.
Mikrokosmos 153 pieces in six volumes
For Children Hungarian and Slovakian tunes for beginner pianists
Piano Concerto No.3 solo part with piano reduction

Russian composer Dmitry Kabalevsky had a gift for creating piano music for all levels of ability, from children to concert pianists.
30 Children's Pieces Classic repertoire in a new edition with teaching notes
Easy Piano Compositions A classic collection of beginner's pieces
Piano Sonatas 1-3 in the Russian Piano Classics series

Prokofieff's keyboard style ranges from spiky humour, through characteristic Russian melody, to the virtuoso brilliance of his sonatas and concerti.
Visions Fugitives The classic collection of piano miniatures
Musique d'Enfants A range of pieces suitable for young pianists
Piano Sonata No.6 The most performed of his nine sonatas

The last of the great Romantic pianists, whose music is loved and performed all over the world.
Preludes The composer's most celebrated collection of piano music
Piano Compositions vol.2 including the Corelli Variations
Play Rachmaninoff Greatest hits, arranged for the intermediate pianist

Stravinsky was a talented pianist and composed for the instrument throughout his life.
Serenade in A His colourful three movement keyboard suite
Stravinsky for Piano A collection of piano miniatures
Three Movements from Petrushka Stravinsky's piano suite from the ballet
Search repertoire by other 20th century composers of keyboard music, including Bernstein, Britten, Copland, Ginastera, Reger and Shostakovich.
Classic piano favourites

Simrock Edition
The Simrock Edition, published by Boosey & Hawkes, includes many 19th century favourites. Keyboard works by Brahms include the Waltzes, Rhapsodies, Intermezzi, Ballades and the Handel and Haydn Variations. Music by Dvorak includes the Humoresques, Waltzes and transcriptionis of the popular Slavonic Dances. The edition also includes pianos works by Tchaikovsky and Bruch.
Easy Piano Classics
If you've been challenged by big stretches in the right hand and difficult left hand accompaniments why not try some of our easy piano repertoire? Great music without the tears.
Twentieth Century Classics Simple arrangements of classic repertoire
Jenkins: Adiemus The well-known theme from the best-selling disc
Maxwell Davies: Farewell to Stromness as heard on Classic FM
Prokofieff: Peter and the Wolf arranged for easy piano
Rachmaninoff: Piano Concerto No.2 The theme from this favourite concerto
Shostakovich: Waltz as heard in Kubrick's Eyes Wide Shut
Learning Piano
Explore our range of tutors and educational music for piano, including the acclaimed Microjazz series by Christopher Norton.
by Christopher Norton
Using contemporary styles such as jazz, blues, rock 'n' roll and funk, Microjazz helps you develop musicianship and technique through the familiar sounds of popular music. It is this unique combination of modern genres with traditional technique that has made Microjazz an international success with teachers and players, and one of the most widely used educational series ever published. New technology adds an exciting interactive dimension to practice and performance. A 3.5" standard midi file disk is available for many of the Microjazz books, providing high quality orchestrations.

by Christopher Norton
A new playalong concept by Christopher Norton, the creator of Microjazz. Easy solo pieces in pop styles with start-of-the-art CD accompaniments. Play the solo piece "straight" or add the backing tracks and enter a whole new world of sound. Students will learn all about technique - rhythm, co-ordination and listening, but they'll be having so much fun, they won't know they're doing it!
by Christopher Norton
Improvisation can seem daunting to classically-trained musicians, who can feel lost without written music to follow. Many people have always wanted to improvise, or find that they have to teach it, but are unsure how to start. Christopher Norton's Easiest Way to Improvise promises a new and truly easy approach! Designed for teachers and players who have little or no confidence in improvisation, it reveals the "magic move" that will really transform your "doodlings" into fully fledged performances. Its user-friendly format combines a practical workbook and a fabulous CD resource.
by Carol Barratt
Mix and match melodies for beginner pianists by the award-winning composer Carol Barratt. A former Educational publication of the year award winner.
Explore the sound worlds of latin, rock, jazz, minimalism and country music with this range of pieces for solo piano or duet.
Organ repertoire includes original works by Brahms, Britten, Copland, MacMillan, Reger and Rorem and arrangements of music by Bernstein, Delius, Dvorak, Elgar and Jenkins
Page Menu
Explore keyboard music
20th century Repertoire
Béla Bartók
Dmitry Kabalevsky
Serge Prokofieff
Sergei Rachmaninoff
Igor Stravinsky
Classic piano favourites
Simrock Edition
Easy Piano Classics
Learning Piano
Microjazz Tutor Books & Collections
Big Beats
The Easiest Way to Improvise
The Cat's Pyjamas
A World of Piano Styles
Music for Organ

Keyboard Music as Sheet Music Download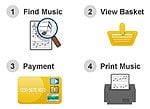 Browse keyboard repertoire at our new Sheet Music Download shop, and print music directly via your computer.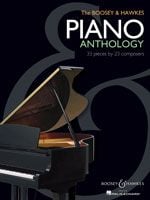 New Release
The Boosey & Hawkes Piano Anthology

33 Pieces by 23 Composers including Bernstein, Britten, Copland and Stravinsky. New repertoire by Carter and Kats-Chernin and unpublished works by Górecki and Argento. Ideal for advanced grade and conservatoire players.