Click here to return to our full list of musicals and operettas.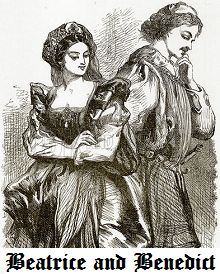 BEATRICE AND BENEDICT
Music by Hector Berlioz
Libretto by Hector Berlioz after Shakespeare's "Much Ado About Nothing"
English version translated and adapted by Ronald Eyre

Administered for rental and amateur stage rights by Boosey & Hawkes in the UK.
Licensing performances
If you wish to apply to perform the work, then please send an email to musicals@boosey.com stating the following information only:
1) Name of school/society
2) Where you are (city/town)
3) What you want to perform (Beatrice and Benedict)
4) When you want to perform (if exact dates are not yet known, then please provide the month)
We will then send you an application form by email to complete, along with details of costs involved. Once the form is completed and returned by email, a licence will be emailed to you for signature. Once signed we will be able to send you the music at the date requested on your application form.
Details of hire requirements should be submitted on the application form. We can provide piano vocal scores and libretti. The orchestration used is the original Berlioz orchestration, and we do not provide these parts. Please note that you must use live musicians and the use of a backing track is strictly forbidden.
Information
THE STORY (Messina, Sicily during the 16th Century)
Preparations are under way to welcome back the victorious General and his troops who have saved the town from the besieging army of Moors. Hero is anxiously awaiting their arrival for she is longing to see Claudio, he beloved. Beatrice, however, cannot understand what all the fuss is about and expresses concern when she hears that Claudio's companion is Benedict. She declares that he is a bad influence, and upon his arrival she shows him nothing but contempt; in return, Benedict is equally insulting. He is a confirmed bachelor who does not believe in love or marriage. He has seen the effect love can have on his fellow officer, Claudio, who once only used to think of military matters but whose mind is now constantly occupied with Hero, his bride-to-be. Don Pedro, however, is of the option that Beatrice and Benedict would make an excellent couple in spite of their apparent dislike of each other. To overcome this problem, he formulates a plan whereby Benedict is lead to believe that Beatrice is madly in love with him, while Beatrice is told that Benedict is infatuated with her. This news causes them to re-assess their opinion of each other and they come to the conclusion that perhaps they are in love after all. At first they conceal their mutual feelings but the power of love eventually proves too strong, and calling a truce, they join Claudio and Hero in the signing to marriage contract.


PRINCIPAL CHARACTERS
Don Pedro (a General)
Leonato (the Governor of Messina)
Hero (his daughter)
Beatrice (Leonato's Niece)
Claudio (an Officer)
Benedict (an Officer)
Ursula (Hero's Companion)


PRINCIPAL MUSICAL NUMBERS
I Should Say Disdain (Beatrice, Benedict)
Marry A Wife? (Benedict, Claudio, Don Pedro)
Yes, I'll Fall In Love (Benedict)
Is That A Sigh of Sorrow? (Hero, Ursula)
No, They Would Not Deceive Me! (Beatrice)


Click here to return to our full list of musicals and operettas.
Warner/Chappell
For further information visit the Warner/Chappell website