Featured Opera
CORALINE
Mark-Anthony Turnage's new opera for family audiences, based on Neil Gaiman's fantasy novella, travels to Theater Freiburg in June and Opéra de Lille in November.
READ MORE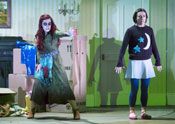 Opera News
Beatrice Cenci , Berthold Goldschmidt's operatic examination of a debauched 16th century family, returns to the stage at the Bregenz Festival this summer.

Benjamin Britten's operatic exploration of Queen Elizabeth I received a major new staging at the Teatro Real in Madrid, in a production by David McVicar that is set to travel around Europe.
Explore our 500 operas, music theatre works, operettas and musicals - from classics by Offenbach, Tchaikovsky, Strauss and Britten to the latest contemporary operas.
Boosey & Hawkes also represents other publishers' stage catalogues in certain territories.