Click here to return to our full list of musicals and operettas.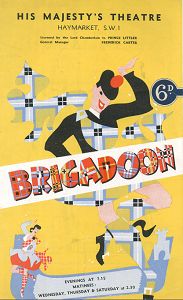 BRIGADOON
Music by Frederic Loewe
Libretto and Lyrics by Alan Jay Lerner

Administered for rental and amateur stage rights by Boosey & Hawkes in the UK.

Fall under the spell of Lerner & Loewe's Brigadoon, one of the most beautiful and enchanting musicals ever written.
Please follow this link to listen to extracts from a selection of songs from the musical.
Licensing performances
If you wish to apply to perform the musical, then please send an email to musicals@boosey.com stating the following information only:
1) Name of school/society
2) Where you are (city/town)
3) What you want to perform (Brigadoon)
4) When you want to perform (if exact dates are not yet known, then please provide the month)
We will then send you an application form by email to complete, along with details of costs involved. Once the form is completed and returned by email, a licence will be emailed to you for signature. Once signed we will be able to send you the music at the date requested on your application form.

Your hire requirements should be submitted on the application form, and details of materials available to hire can be found below.
Information
HIRE MATERIALS AVAILABLE & NSTRUMENTATION

We can provide orchestral parts (details below). Please note that you must use live musicians and the use of a backing track is strictly forbidden.

Vocal scores and libretti are not available for hire. Vocal scores may be purchased online by clicking here, and libretti may be purchased online by clicking here.

1 Conductor Score - annotated vocal score
1 Flute/Picc
1 Oboe
1 Clarinet I
1 Clarinet II
1 Bassoon
1 Horn
3 Trumpets
1 Trombone
1 Percussion (plus bells & glock)
1 Piano & Celeste
2 Violins I
1 Violin II
1 Viola
1 Cello
1 Double Bass


THE STORY
The Scottish Highlands, 200 years ago
Two Americans, Tommy Albright and his pal Jeff Douglas, chance upon a small Scottish village in a Highland mist. They discover, mainly from the village schoolmaster Mr Murdoch, that Brigadoon is an enchanted place that only comes to life one day every hundred years. Tommy and Jeff meet Fiona MacKeith and Meg Brockie, and Tommy and Fiona soon find in each other a deep understanding. We follow the villagers through a day that includes a wedding and learn that if one of the inhabitants should leave Brigadoon the spell will be broken for ever. There is a near-disaster when a young embittered Scot tries to take his revenge. He dashes towards the forest but is killed making his escape. Happiness is changed to mourning. Tommy has by now fallen deeply in love with Fiona but he is told he cannot stay. He goes back with Jeff to New York and quarrels with his fiancée. Suddenly in a New York bar he sees a vision for Fiona and comes to a decision. He knows he must return to Scotland. There by the power of love he reawakens the slumbering Brigadoon just long enough for him to be reunited with Fiona.


PRINCIPAL MUSICAL NUMBERS
Waitin' For My Dearie (Fiona, girls)
I'll Go Home With Bonnie Jean (Charlie, Chorus)
The Heather On The Hill (Tommy, Fiona)
Come to Me, Bend to Me, (Charlie)
Almost Like Being In Love (Tommy, Fiona)
There But For You Go I (Tommy)
My Mother's Weddin' Day (Meg, Chorus)
From This Day On (Fiona, Tommy)


CHARACTERS AND VOCAL RANGE
Tommy Albright (Light Baritone)
Jeff Douglas (Non-singing)
Angus MacMonies (Non-singing)
Donald Ritchie (Non-singing)
Sandy (Lyric Baritone)
Maggie Abernethy (Non-singing)
MacGregor (Baritone)
Stuart Cameron (Tenor)
Harry Ritchie (Non-singing)
Meg Brockie (Contralto)
Andrew MacKeith (Non-singing)
Fiona (Lyric Soprano)
Jean (Non-singing)
Charlie Cameron (Light Lyric Tenor)
Mr Murdoch (Non-singing)
Two sword dancers (Non-singing)
Piper (to play bagpipes)
Frank (Non-singing)
Jane Ashton (Non-singing)


HISTORY
Brigadoon, Alan Jay Lerner & Frederick Loewe's fourth musical collaboration but first stage success, opened on Broadway on 13th March 1947 at the Ziegfield Theatre and ran for 581 performances. It was produced by Cheryl Crawford and directed by Robert Lewis. Agnes de Mille won the Tony Award (shared) for Best Choreography.

Brigadoon had its West End premiere at His Majesty's Theatre, London, on 14th April 1949, where it played for 685 performances.

Gene Kelly and Cyd Charisse starred in the 1954 feature film, directed by Vincente Minnelli, and in 1966 Robert Goulet and Peter Falk starred in a television version.
Click here to return to our full list of musicals and operettas.
Warner/Chappell
For further information visit the Warner/Chappell website