Click here to return to our full list of musicals and operettas.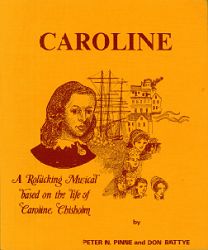 CAROLINE
A Musical play based on the life and times of Caroline Chisholm
By Peter N. Pinne and Don Battye (from an idea by Leila Blake)
Administered for rental and amateur stage rights by Boosey & Hawkes in the UK.




Caroline has been prepared especially for Secondary School production. Teachers and educationalists alike have praised this musical for its entertaining qualities and ability to involve students of all interests and skills.
Please follow this link to listen to extracts from a selection of songs from the musical.
Licensing performances
If you wish to apply to perform the musical, then please send an email to musicals@boosey.com stating the following information only:
1) Name of school/society
2) Where you are (city/town)
3) What you want to perform (Caroline)
4) When you want to perform (if exact dates are not yet known, then please provide the month)
We will then send you an application form by email to complete, along with details of costs involved. Once the form is completed and returned by email, a licence will be emailed to you for signature. Once signed we will be able to send you the music at the date requested on your application form.

Your hire requirements should be submitted on the application form, and details of materials available to hire can be found below.
HIRE MATERIALS AVAILABLE & INSTRUMENTATION

We can provide orchestral parts (details below), and vocal scores (which include the libretto). Please note that you must use live musicians and the use of a backing track is strictly forbidden.

Piano Conductor's Score
Clarinet
Flute
Bass
Drums
Piano

THE STORY
Caroline Chisholm was born in Northampton in the early 19th century and is most recognised for her progressive involvement with female immigrant welfare in Australia. This story of the "Lady on the five dollar note" is set in Sydney between the years 1840 and 1854 and provides ample chorus work for citizens, government officials, miners, camp followers, immigrant wives and settlers. Apart from Caroline, Archibald, Flora and Tom, all the other characters may be doubled by cast members according to the size of the company. The musical should have a continuing look about it – wherever possible each scene should almost overlap the previous one. It is easier to create this effect by not attempting to have solid sets and furniture.


MUSICAL NUMBERS
What Have You Got To Offer Me?
Finding Flora A Position
There's So Much To Be Done
A Woman's Place Is In The Home
Give You Money
I Was Always There
She's The One To Blame
The Lonely Men
Bushrangers, Bunyips And Blacks
On The Road
New Found Freedom Of The Poor
Search For Ann
Where He Is
Come Emigrate
The Lady In The Bonnet And Shawl
The Call Of The Gold


CHARACTERS
Caroline Chisholm
Captain Archibald Chisholm
Flora
Tom Shepherd
Ann Shepherd
Governor Gipps
Lady Gipps
Dr John Lang
Earl Grey
Earl Grey's Aide
A Priest
Citizens of Sydney Town and London, government officials, miners, camp followers, immigrant wives and settlers.


HISTORY
The first production of Caroline took place at St. Martin's Theatre, Melbourne, on 24th February 1971.


Click here to return to our full list of musicals and operettas.
Warner/Chappell
For further information visit the Warner/Chappell website