Click here to return to our full list of musicals and operettas.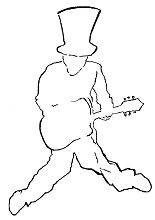 COPPERFIELD & CO
Music, Lyrics and Book by Frank Kirwan
Administered for rental and amateur stage rights by Boosey & Hawkes in the UK.
Please follow this link to view the vocal score and libretto online, free of charge.
Please follow this link to listen to extracts from a selection of songs from the musical.
If you wish to apply to perform the musical, then please send an email to musicals@boosey.com stating the following information:
1) Name of school/society
2) Where you are (city/town)
3) What you want to perform (Copperfield & Co)
4) When you want to perform (if exact dates are not yet known, then please provide the month)
We will then send you an application form by email to complete, along with details of costs involved. Once the form is completed and returned by email, a licence will be emailed to you for signature. Once signed we will be able to send you the music at the date requested on your application form.
Details of hire requirements should be submitted on the application form. We can provide piano vocal scores and libretti. Please note that you must use live musicians and the use of a backing track is strictly forbidden.
INSTRUMENTATION
Piano accompaniment (other options a possibility upon application)


THE STORY
"Copperfield and Co." is a radical new slant on an old but always popular story, which follows the life of David Copperfield through happiness, cruelty , poverty, laughter, love, death and depression, until, after a couple of final twists, we arrive at a triumphal denouement.

The narrators, David and, surprisingly, his now best friend Uriah, help inter-connect an ever-changing tale, which sees even the upright Murdstones perform a rock 'n' roll routine, while later Uriah and Mr Micawber launch into a soft shoe shuffle more akin to Laurel and Hardy. Uriah sings an anthem to humility in "I'm 'umble", while "Evidence" has more than a flavour of Gilbert and Sullivan. Nor do we miss out on traditional Dickens fare, with songs from David himself, Agnes Wickfield (much coveted and almost won by Uriah) and that ultimate optimist Wilkins Micawber with "Something will turn up". The factory boys meanwhile give us a "Bottle Boys" song and dance, and David has a rousing wedding reception via "Matrimony". The eccentric Aunt Betsy and Mr Dick are not neglected, as they, together with an increasingly drunk Mr Wickfield, spice up the mixture. But it is Uriah, that "greasy, oily rogue" who is the undoubted star of the show, and who, Scrooge-like, repents at the end, in his song "Only Love".

"Copperfield and Co." aims to put on a show that Charles Dickens himself would have enjoyed. His characters explore the realm of musical theatre in a direction that will please all Dickens fans just as much as newer, younger participants, as they all live the magical world of Charles Dickens.

It is a flexible ensemble show, suited to adult, youth and school groups and, particularly via Uriah, it encourages interaction with the audience, who are pulled into the very heart of the drama.


PRINCIPAL CHARACTERS
David Copperfield (Narrator/Adult)
David Copperfield (The Boy)
Mr Murdstone
Mr Micawber
Aunt Betsy
Uriah Heap (Narrator/Adult)
Uriah Heap (The Boy)
Mrs Heap
Mrs Micawber
Mr Dick


PRINCIPAL MUSICAL NUMBERS
Bottle Boys (Bottle Boys)
I'm 'Umble (Uriah Heap)
Angel in the Morning (Agnes)
Just Time For Another (Uriah Heap, Mr Wickfield)
Wish I'd Never Seen The Sunshine (David, Clara)
Copperfield & Co.(Company)


Click here to return to our full list of musicals and operettas.
Warner/Chappell
For further information visit the Warner/Chappell website