Click here to return to our full list of musicals and operettas.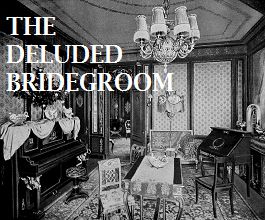 THE DELUDED BRIDEGROOM
Music by W.A Mozart
Adapted, with English words by John Coombs

Administered for rental and amateur stage rights by Boosey & Hawkes in the UK.
Licensing performances
If you wish to apply to perform the work, then please send an email to musicals@boosey.com stating the following information only:
1) Name of school/society
2) Where you are (city/town)
3) What you want to perform
4) When you want to perform (if exact dates are not yet known, then please provide the month)
We will then send you an application form by email to complete, along with details of costs involved. Once the form is completed and returned by email, a licence will be emailed to you for signature. Once signed we will be able to send you the music at the date requested on your application form.
Details of hire requirements should be submitted on the application form. We can provide orchestral parts (details below), as well as piano vocal scores and libretti. Please note that you must use live musicians and the use of a backing track is strictly forbidden.
Information
INSTRUMENTATION
1 Flute I/II
1 Oboes I/II
1 Clarinets I/II
1 Bassoons I/II
1 Horns I/II
1 Trumpets I/II
1 Timpani
2 Violins I
1 Violin II
1 Viola
1 Cello
1 Double Bass


THE STORY (Late 18th Century)
The scene is a drawing-room where we find a young lady, Bettina, betrothed against her will to the foolish but rich Pulcherio, newly succeeded to a dukedom. By pretending to faint, Bettina manages to postpone the wedding long enough for her impecunious lover, Almiro, to obtain proof that he is the true heir to the dukedom. Thus Almiro turns the tables on Pulcherio and the scheming lawyer, Bocconio. Though originally planned as a full length entertainment with chorus, this work was left largely incomplete at the composer's death. The adaptation utilises Mozart's fragments to make a chamber piece for four characters lasting half an hour.


PRINCIPAL CHARACTERS
Bettina
Pulcherio
Almiro
Bocconio


Click here to return to our full list of musicals and operettas.
Warner/Chappell
For further information visit the Warner/Chappell website