Click here to return to our full list of musicals and operettas.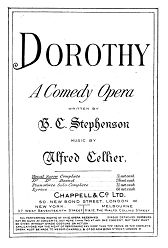 DOROTHY
Music by Alfred Cellier
Written by B.C. Stephenson
Administered for rental and amateur stage rights by Boosey & Hawkes in the UK.

Licensing performances
If you wish to apply to perform the musical, then please send an email to musicals@boosey.com stating the following information only:
1) Name of school/society
2) Where you are (city/town)
3) What you want to perform (Dorothy)
4) When you want to perform (if exact dates are not yet known, then please provide the month)
We will then send you an application form by email to complete, along with details of costs involved. Once the form is completed and returned by email, a licence will be emailed to you for signature. Once signed we will be able to send you the music at the date requested on your application form.
Details of hire requirements should be submitted on the application form. We can provide orchestral parts (details below), as well as piano vocal scores and libretti. Please note that you must use live musicians and the use of a backing track is strictly forbidden.
Information
INSTRUMENTATION
2 Violins I
1 Violin II
1 Viola
1 Cello / Double Bass
1 Flute I
1 Flute II
1 Oboe
1 Clarinet I
1 Clarinet II
1 Bassoon
1 Horn I
1 Cornet
1 Trombone
1 Drums
1 Timpani
1 Conductor Score – annotated vocal score.

THE STORY
The plot surrounds the Squire's daughter, Dorothy and her cousin Lydia, who, tired of the social rounds, decide to pose as villagers during the festival of the Hop Pole, (An annual celebration occurring in the vicinity of the Hop Pole Inn), at the end of the Hop picking season. It so happens that Geoffrey a "young English gentleman", and his friend Harry, under assumed names, are using the Hop Pole Inn as a hideout to escape Lurcher, a Sheriff's officer who has been chasing them with a bundle of writs. The men and girls are mutually attracted but neither pair knows the other's true identity. Lurcher arrives on the scene and is tricked into posing as a servant to the two men when they visit the house of the Squire. There is a faked burglary, Lurcher dines too well, identities are exposed but the end is obvious and happy.

PRINCIPAL CHARACTERS
Dorothy
Lydia
Geoffrey
Sir John
Harry
Phyllis
Mrs Privett

PRINCIPAL MUSICAL NUMBERS
Be Wise In Time (Dorothy, Lydia, Phyllis)
Hark For'ard (Dorothy, Chorus)
With A Welcome To All (Sir John, Chorus)
Queen Of My Heart (Harry)
The Time Has Come (Phyllis)


Click here to return to our full list of musicals and operettas.
Warner/Chappell
For further information visit the Warner/Chappell website