Click here to return to our full list of musicals and operettas.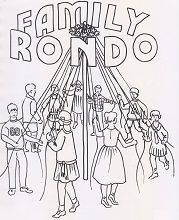 FAMILY RONDO
Music and Lyrics by Vera Heade
Book and additional Lyrics by Dennis Atkinson

Administered for rental and amateur stage rights by Boosey & Hawkes in the UK.
Licensing performances
If you wish to apply to perform the musical, then please send an email to musicals@boosey.com stating the following information only:
1) Name of school/society
2) Where you are (city/town)
3) What you want to perform (Family Rondo)
4) When you want to perform (if exact dates are not yet known, then please provide the month)
We will then send you an application form by email to complete, along with details of costs involved. Once the form is completed and returned by email, a licence will be emailed to you for signature. Once signed we will be able to send you the music at the date requested on your application form.
Details of hire requirements should be submitted on the application form. We can provide orchestral parts (details below), as well as piano vocal scores and libretti. Please note that you must use live musicians and the use of a backing track is strictly forbidden.

Information
INSTRUMENTATION
Piano accompaniment only

THE STORY
When two young children discover some old photographs hidden in the drawer of an old desk, a wonderful yet sad tale of past lives is brought to life. Set over a time span of many years we see the tale unfold of Master Frederick and his father, once Lord and master of the manor. When Master Frederick falls in love with a beautiful village girl by the name of Alicia, he is faced with heartbreaking ultimatum; either leave Alicia or leave his family. Torn by love, Master Frederick and Alicia leave for Australia. Several years later, a young stranger arrives on the scene enquiring about the Old Manor and is eventually revealed as being the son of Master Frederick. John, (the son), vows to buy back the Manor and return it to its rightful owner, Master Frederick.

PRINCIPAL CHARACTERS
Anne
Ben
Sir Edward Foxley
Lady Beatrice
Frederick
Alicia
John
Emily

PRINCIPAL MUSICAL NUMBERS
A Hunting, A Hunting (Chorus)
We've Been Through It Together (Dan, Tom, Chorus)
The Seasons In Their Turn (Emily, John)
The Camera Goes Click! (Anne, Ben, Chorus)


Click here to return to our full list of musicals and operettas.
Warner/Chappell
For further information visit the Warner/Chappell website