Click here to return to our full list of musicals and operettas.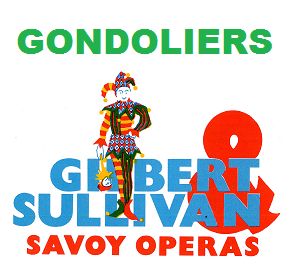 GONDOLIERS (Murray orchestration)
Music by Arthur Sullivan (orchestrated by Peter Murray)
Libretto and Lyrics by W.S. Gilbert

Administered for rental and amateur stage rights by Boosey & Hawkes in the UK.
Licensing performances
If you wish to apply to perform the work, then please send an email to musicals@boosey.com stating the following information only:
1) Name of school/society
2) Where you are (city/town)
3) What you want to perform
4) When you want to perform (if exact dates are not yet known, then please provide the month)
We will then send you an application form by email to complete, along with details of costs involved. Once the form is completed and returned by email, a licence will be emailed to you for signature. Once signed we will be able to send you the music at the date requested on your application form.
Details of hire requirements should be submitted on the application form. We can provide orchestral parts (details below). Vocal scores and libretti may be purchased from www.boosey.com/shop. Please note that you must use live musicians and the use of a backing track is strictly forbidden.
Information
INSTRUMENTATION
1 Flute
1 Oboe
1 Clarinet
1 Horn (optional)
1 Trumpet (optional)
1 Trombone (optional)
1 Timpani
1 Percussion
1 Piano (optional)
3 Violins I
3 Violins II
2 Violas
2 Cellos
1 Double Bass


THE STORY (Venice/Barataria; 1750)
At birth, Casilda, the 21 year old daughter of the Duke and Duchess of Plaza-Toro, was married by the proxy to the then infant son and heir of the exceedingly wealthy King of Barataria. Unfortunately, the King become a rather bigoted Wesleyan Methodist, and the Grand Inquisitor, determined that such a trend should not continue, arranged for the heir to be kidnapped and taken to Venice. There he was placed in the care of a respectable Gondolier who raised him alongside his own son. Now Gondoliers themselves, his 'sons', Marco and Giuseppe, have recently selected a bride each – Gianetta and Tessa – from their large female following and are, therefore, upset to learn that, as heir apparent to the throne, one of them may have to sacrifice his bride in order to marry Casilda. She is not happy with the situation either as she is in love with Luiz. As Marco and Giuseppe's 'father' has since died, the only person who can identify the Prince is Inez who was his childhood nurse. When called upon to make her judgement she reveals that neither is in fact the King's son because when the baby was kidnapped she substituted her own child in his place. Therefore, the true heir to the throne of Barataria is Luiz. This proves very satisfactory to all parties as the Gondoliers can keep their brides and Casilda can both fulfil the proxy and marry the one she loves.


PRINCIPAL CHARACTERS
The Duke of Plaza-Toro (a Grandee of Spain)
Luiz (his Attendant)
Don Alhambra del Bolero (the Grand Inquisitor)
Marco Palmieri (Venetian Gondolier)
Giuseppe Palmieri (Venetian Gondolier)
The Duchess of Plaza-Toro
Casilda (her Daughter)
Gianetta (Contadine)
Tess (Contadine)
Inez (the King's Foster-mother)


PRINCIPAL MUSICAL NUMBERS
In Enterprise of Martial Kind (Duke of Plaza-Toro)
I Stole The Prince (Don Alhambra with Duke, Duchess, Casilda, Luiz)
When A Merry Maiden Marries (Tessa)
Then One Of Us (Marco, Giuseppe, Gianetta, Tessa)
Take A Pair Of Sparkling Eyes (Marco)


Click here to return to our full list of musicals and operettas.
Warner/Chappell
For further information visit the Warner/Chappell website