Click here to return to our full list of musicals and operettas.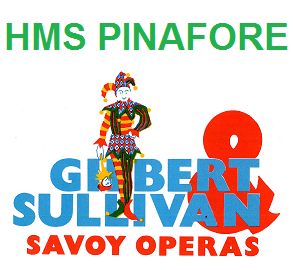 HMS Pinafore (Murray orchestration)
Music by Arthur Sullivan (orchestrated by Peter Murray)
Libretto and Lyrics by W.S. Gilbert

Administered for rental and amateur stage rights by Boosey & Hawkes in the UK
Licensing performances
If you wish to apply to perform the work, then please send an email to musicals@boosey.com stating the following information only:
1) Name of school/society
2) Where you are (city/town)
3) What you want to perform
4) When you want to perform (if exact dates are not yet known, then please provide the month)
We will then send you an application form by email to complete, along with details of costs involved. Once the form is completed and returned by email, a licence will be emailed to you for signature. Once signed we will be able to send you the music at the date requested on your application form.
Details of hire requirements should be submitted on the application form. We can provide orchestral parts (details below). Vocal scores and libretti may be purchased from www.boosey.com/shop. Please note that you must use live musicians and the use of a backing track is strictly forbidden.
Information
INSTRUMENTATION
1 Flute
1 Oboe
1 Clarinet
1 Horn (optional)
1 Trumpet (optional)
1 Trombone (optional)
1 Timpani
1 Percussion
1 Piano (optional)
3 Violins I
3 Violins II
2 Violas
2 Cellos
1 Double Bass


THE STORY (Quarter-Deck of HMS Pinafore off Portsmouth)
High spirits prevail aboard HMS Pinafore as Little Buttercup distributes sweets and tobacco to the crew. Ralph Rackstraw's mind, however, is on Josephine. He is in love with her even though she is socially unattainable. Unaware of his affection for her, Josephine is in love with Ralph but pride prevents her from revealing this because of his low station. Josephine, meanwhile, is sought in marriage by Sir Joseph Porter whose advances she refuses to acknowledge. Sir Joseph holds strong views about the treatment of sailors. He maintains that a British sailor is any man's equal (excepting his own), and should always be treated with politeness without recourse to bad language or abuse. This inspires Ralph to declare his love to Josephine who soon forgets her price and confesses her true feelings to him. Plans are quickly made to smuggle the couple ashore that night to be married. The only crew member who is not happy at the news is Dick Deadeye. He betrays their intentions to the Captain and they are caught before they can leave the ship. Furious at Ralph's actions, the Captain swears an oath at him which is, unfortunately, overheard by Sir Joseph. He is appalled at such an outburst and turns to Ralph for an explanation. Unfortunately, Ralph only makes matters worse by revealing that he is in love with Josephine. The situation is saved by Little Buttercup who intervenes to confess how, in her youth, she had fostered two babies from opposite ends of the social ladder. In the course of caring for them, she had mixed them up. The baby from the poor background was Captain Corcoran and the other was Ralph. Upon hearing this, Sir Joseph immediately loses all interest in Josephine and gladly resigns her to Ralph, now Captain Rackstraw.


PRINCIPAL CHARACTERS
The Rt Hon Sir Joseph Porter, KCB (First Lord of the Admiralty)
Captain Corcoran (Commanding HMS Pinafore)
Ralph Rackstraw (Able Seaman)
Dick Deadeye (Able Seaman)
Josephine (The Captain's Daughter)
Hebe (Sir Joseph's First Cousin)
Little Buttercup (A Portsmouth Bumboat Woman)


PRINCIPAL MUSICAL NUMBERS
We Sail The Ocean Blue (Chorus)
I'm Called Little Buttercup (Little Buttercup)
I Am The Captain Of The Pinafore (Captain Corcoran, Chorus)
I Am The Monarch Of The Sea (Sir Joseph Porter, Cousin Hebe, Chorus)
When I Was A Lad (Sir Joseph Porter, Chorus)
Never Mind The Why and Wherefore (Josephine, Captain Corcoran, Sir Joseph Porter)


Click here to return to our full list of musicals and operettas.
Warner/Chappell
For further information visit the Warner/Chappell website