Click here to return to our full list of musicals and operettas.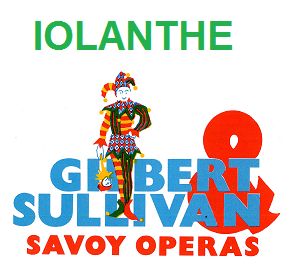 IOLANTHE (Murray orchestration)
Music by Arthur Sullivan (orchestrated by Peter Murray)
Libretto and Lyrics by W.S. Gilbert

Administered for rental and amateur stage rights by Boosey & Hawkes in the UK.
Licensing performances
If you wish to apply to perform the work, then please send an email to musicals@boosey.com stating the following information only:
1) Name of school/society
2) Where you are (city/town)
3) What you want to perform
4) When you want to perform (if exact dates are not yet known, then please provide the month)
We will then send you an application form by email to complete, along with details of costs involved. Once the form is completed and returned by email, a licence will be emailed to you for signature. Once signed we will be able to send you the music at the date requested on your application form.
Details of hire requirements should be submitted on the application form. We can provide orchestral parts (details below). Vocal scores and libretti may be purchased from www.boosey.com/shop. Please note that you must use live musicians and the use of a backing track is strictly forbidden.
Information
INSTRUMENTATION
1 Flute
1 Oboe
1 Clarinet
1 Horn (optional)
1 Trumpet (optional)
1 Trombone (optional)
1 Timpani
1 Percussion
1 Piano (optional)
3 Violins I
3 Violins II
2 Violas
2 Cellos
1 Double Bass


THE STORY (An Arcadian Landscape / Palace Yard, Westminster; between 1700 and 1882)
Twenty-five years after her banishment from Fairyland for marrying a mortal, a crime usually punishable by death, Iolanthe has been pardoned. She had a son by this illicit marriage, Strephon, who is, therefore, half mortal and half fairy. He is in love with Phyllis whom he is determined to marry. However, in order to do so he needs the consent of her guardian, the Lord Chancellor, who shows little enthusiasm for the idea of his ward marrying a mere shepherd. When Strephon turns to his mother for comfort, Phyllis misinterprets their intimacy (as a fairy Iolanthe has not physically aged beyond a certain point) and, believing him to be unfaithful, she renounces her love for him. Although he protests that Iolanthe is his mother, his claims are met with derision by Phyllis and the peers (who are unaware of his parentage) and even the intervention of the Queen of the Fairies cannot persuade them otherwise. Furious at their attitude, she declares that Strephon will enter Parliament and will work to overthrow all the privileges enjoyed by the nobility, a job at which Strephon is successful. However, he finds it no substitute for Phyllis and, with no further reason to conceal it, he reveals his fairy origins to her. This explains Iolanthe's apparent youth and the couple become re-engaged. At Strephon's request, Iolanthe puts their case to the Lord Chancellor, but has to disguise herself before doing so as, unbeknown to him, he is her mortal husband and she is forbidden to enlighten him under pain of death. Unfortunately, when he declares that he has decided to marry Phyllis himself, she is forced to reveal her true identity although this will mean forfeiting her life. However, when it emerges that the other fairies have committed the ultimate offence and married the peers (ie mortals), the Lord Chancellor suggests that the law be amended so that it is a crime for any fairy not to marry a mortal. The Queen happily selects a mortal for herself and invites the whole company to join her in Fairyland.


PRINCIPAL CHARACTERS
The Lord Chancellor
Earl of Mountararat
Earl Tolloller
Strephon (an Arcadian Shepherd)
Phyllis (An Arcadian Shepherdness and Ward in Chancery)
Queen of the Fairies
Iolanthe (A Fairy, Strephon's Mother)


PRINCIPAL MUSICAL NUMBERS
None Shall Part Us (Phyllis, Strephon)
Loudly Let The Trumpet Bray (Chorus)
The Law Is The True Embodiment (Lord Chancellor, Chorus of Peers)
When All Night Long A Chap Remains (Sentry)
When Britain Really Ruled The Waves (Lord Mountararat, Chorus)
Love Unrequited Robs Me Of My Rest (Lord Chancellor)


Click here to return to our full list of musicals and operettas.
Warner/Chappell
For further information visit the Warner/Chappell website