Click here to return to our full list of musicals and operettas.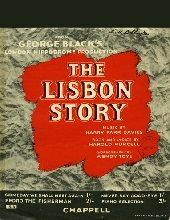 LISBON STORY
Music by Harry Parr Davies
Libretto & Lyrics by Harold Purcell

Administered for rental and amateur stage rights by Boosey & Hawkes in the UK.
Licensing performances
If you wish to apply to perform the musical, then please send an email to musicals@boosey.com stating the following information only:
1) Name of school/society
2) Where you are (city/town)
3) What you want to perform (Lisbon Story)
4) When you want to perform (if exact dates are not yet known, then please provide the month)
We will then send you an application form by email to complete, along with details of costs involved. Once the form is completed and returned by email, a licence will be emailed to you for signature. Once signed we will be able to send you the music at the date requested on your application form.
Details of hire requirements should be submitted on the application form. We can provide orchestral parts (details below), as well as piano vocal scores and libretti.
Please note that you must use live musicians and the use of a backing track is strictly forbidden.
Information
INSTRUMENTATION
1 Conductor Score – annotated vocal score
1 Flute
1 Oboe
1 Clarinet 1
1 Clarinet 11
1 Bassoon
1 Horn 1
1 Horn 11
1 Trumpet 1
1 Trumpet 11
1 Trombone 1
1 Percussion
1 Harp
2 Violins 1
1 Violin 11
1 Viola
1 Cello
1 Double Bass


THE STORY (Lisbon and Paris 1939 – 43)
In this exciting story of Second World War espionage, Parisian singing star Gabrielle Girard is parted from the man she loves. He is David Warren of the British Foreign Office who has been posted to Washington. By chance they meet again in Lisbon, a neutral centre of wartime intrigue. Here David and co-agent Mike O'Rourke are caring for Lisette Sargon, whose scientist father is expected to be smuggled from France with important secrets for the allies. Unfortunately, he is captured and imprisoned by the Nazis in France. Von Schriner is a Nazi Cultural representative whose job it is to persuade exiled and distinguished artists to return home and resume their careers. Gabrielle declines his professional and romantic overtures until he agrees to let her choose the people she wants to appear with and to run her theatre in Paris. She is then able to get Sargon released from a concentration camp and to reunite him with Lisette. When Von Schriner discovers the scientist's identity he threatens to disclose all he knows unless Gabrielle becomes his mistress. There follows an attempt by David and Mike to smuggle Gabrielle, Sargon and Lisette to London after opening of the musical "La Comtesse" in which Gabrielle and Lisette are appearing. In order to create a diversion Gabrielle impersonates Lisette and rouses the audience with a patriotic speech. To the sounds of The Marseilleise, revolver shots, and British bombs, the curtain comes down. Gabrielle has enabled Lisette and her father to escape but only at the cost of her own life.


PRINCIPAL CHARACTERS
Gabrielle
Ramon
David
Lisette
Gonzales
Von Schriner
Carmelita


PRINCIPAL MUSICAL NUMBERS
Some Day We Shall Meet Again (Gabrielle)
Never Say Goodbye (Gonzales, Gabrielle)
Pedro The Fisherman (Fishermen, Girls)
Serenade For Sale (Ramon)
April In The Spring Love (Lisette)


Click here to return to our full list of musicals and operettas.
Warner/Chappell
For further information visit the Warner/Chappell website