Click here to return to our full list of musicals and operettas.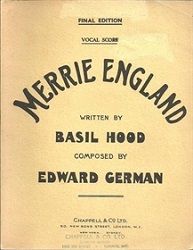 MERRIE ENGLAND
Music by Edward German
Book and Lyrics by Basil Hood
Adapted by Dennis Arundell

Administered for rental and amateur stage rights by Boosey & Hawkes in the UK.
Licensing performances
If you wish to apply to perform the work, then please send an email to musicals@boosey.com stating the following information only:
1) Name of school/society
2) Where you are (city/town)
3) What you want to perform
4) When you want to perform (if exact dates are not yet known, then please provide the month)
We will then send you an application form by email to complete, along with details of costs involved. Once the form is completed and returned by email, a licence will be emailed to you for signature. Once signed we will be able to send you the music at the date requested on your application form.
Details of hire requirements should be submitted on the application form. We can provide orchestral parts (details below), as well as piano vocal scores and libretti. Please note that you must use live musicians and the use of a backing track is strictly forbidden.
Information
INSTRUMENTATION
1 Flute/Piccolo I/II
1 Oboe
1 Clarinet I/II
1 Bassoons I/II
1 Horns I/II
1 Trumpets I/II
1 Trombones I/II
1 Percussion
1 Harp
2 Violins I
1 Violin II
1 Viola
1 Cello
1 Double Bass


THE STORY (Elizabethan England)
This well know comic opera is set in the reign of Queen Elizabeth I. The famous courtier, Sir Walter Raleigh, loves Bessie Throckmorton, one of the Queen's Ladies in Waiting. Bessie is frightened that a misplaced letter from Raleigh will fall into the hands of the Queen, who would be displeased at the association. Raleigh's rival, the Earl of Essex, is given the letter by Jill-All-Alone, who is persecuted by the local people who think she is a witch. A forester begs the Queen to protect Jill. However, when Essex hands Elizabeth the letter, the Queen is so incensed that she orders Bessie's imprisonment, Raleigh's banishment and Jill's death by burning. Elizabeth retracts each sentence when Essex halts a threat to her life through his exposure of Dr Lopez, the Queen's Portuguese physician, who is planning to poison her. This adaptation was first seen at Sadlers Wells in 1960 and has the effect of increasing the dramatic realism and allowing the music to give greater unity. The original version is available if required.


PRINCIPAL CHARACTERS
Sir Walter Raleigh
Earl of Essex
Queen Elizabeth I
Bessie Throckmorton
Walter Wilkins
Dr Lopez


PRINCIPAL MUSICAL NUMBERS
The Yeomen of England (Essex, Chorus)
She Had A Letter From Her Love (Bessie)
Love Is Meant To Make Us Glad (Quintet)
O Peaceful England (Elizabeth, Chorus)
The English Rose (Raleigh)
It Is The Merry Month of May (Jill, Raleigh)


Click here to return to our full list of musicals and operettas.
Warner/Chappell
For further information visit the Warner/Chappell website