Click here to return to our full list of musicals and operettas.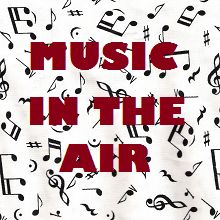 MUSIC IN THE AIR
Music by Jerome Kern
Libretto & Lyrics by Oscar Hammerstein 2nd

Administered for rental and amateur stage rights by Boosey & Hawkes in the UK.
Licensing performances
If you wish to apply to perform the musical, then please send an email to musicals@boosey.com stating the following information only:
1) Name of school/society
2) Where you are (city/town)
3) What you want to perform (Music in the Air)
4) When you want to perform (if exact dates are not yet known, then please provide the month)
We will then send you an application form by email to complete, along with details of costs involved. Once the form is completed and returned by email, a licence will be emailed to you for signature. Once signed we will be able to send you the music at the date requested on your application form.
Details of hire requirements should be submitted on the application form. We can provide orchestral parts (details below), as well as piano vocal scores and libretti.
Please note that you must use live musicians and the use of a backing track is strictly forbidden.
Information
INSTRUMENTATION
1 Conductor Score – annotated vocal score
1 Flutes 1/11
1 Oboe
1 Clarinets 1/11
1 Bassoons 1/11
1 Horn
1 Trumpets 1/11
1 Trombone
1 Percussion
1 Harp
2 Violins 1
1 Violin 11
1 Viola
1 Cello
1 Double Bass


THE STORY (Undated, traditional or present day Bavarian costume)
In the little Bavarian town of Edendorf, Karl and Sieglinde are in love. Karl, who is a young school master, writes the lyrics for Sieglinde's father's latest song, then he and Sieglinde go to see a music publisher. There they meet Frieda, an opera star, and her lover Bruno, who is a librettist. Bruno tries to make Sieglinde the star of his new operetta and Frieda develops an interest in Karl. However, Sieglinde fails to become a diva and she and Karl return home philosophically yet very happy.


PRINCIPAL CHARACTERS
Sieglinde
Karl
Frieda
Bruno
Cornelius
Marthe


PRINCIPAL MUSICAL NUMBERS
I've Told Every Little Star (Karl)
Prayer (Karl, Sieglinde, Ensemble)
There's A Hill Beyond A Hill (Chorus)
I'm Alone (Frieda)
One More Dance (Bruno)
Night Flies By (Frieda)
The Song is You (Bruno)
We Belong Together (Chorus)


Click here to return to our full list of musicals and operettas.
Warner/Chappell
For further information visit the Warner/Chappell website