Click here to return to our full list of musicals and operettas.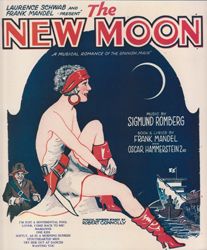 NEW MOON
Music by Sigmund Romberg
Libretto & Lyrics by Oscar Hammerstein 2nd, Frank Mandel & Lawrence Schwab

Administered for rental and amateur stage rights by Boosey & Hawkes in the UK.


Written in the style of Viennese operetta, The New Moon was the third and last Broadway success for Sigmund Romberg.
Please follow this link to listen to extracts from a selection of songs from the musical.
Licensing performances
If you wish to apply to perform the musical, then please send an email to musicals@boosey.com stating the following information only:
1) Name of school/society
2) Where you are (city/town)
3) What you want to perform (New Moon)
4) When you want to perform (if exact dates are not yet known, then please provide the month)
We will then send you an application form by email to complete, along with details of costs involved. Once the form is completed and returned by email, a licence will be emailed to you for signature. Once signed we will be able to send you the music at the date requested on your application form.

Your hire requirements should be submitted on the application form, and details of materials available to hire can be found below.
Information
HIRE MATERIALS AVAILABLE & INSTRUMENTATION

We can provide orchestral parts (details below), vocal scores and libretti. Please note that you must use live musicians and the use of a backing track is strictly forbidden.

1 Conductor Score – annotated vocal score
1 Flute
1 Oboe
1 Clarinets 1/11
1 Bassoon
1 Horns 1/11
1 Trumpets 1/11
1 Trombones 1/11
1 Percussion
1 Harp
2 Violins 1
1 Violin 11
1 Viola
1 Cello
1 Double Bass


THE STORY
The whole action of the play takes place in the years 1792 to 1793 in New Orleans and the Caribbean.

Robert is a young French aristocrat whose revolutionary inclinations force him to flee his country. He sells himself as a bond-servant to planter and ship owner Monsieur Beaunoir and his family in New Orleans. As the police of Paris are looking everywhere for him, Robert cannot tell Beaunoir or his beautiful daughter Marianne, whom he has fallen in love with, that he is of noble blood. Eventually, he is tracked down by Vicomte Ribaud, the detective villain, and put aboard The New Moon so that he can deported back to France. Robert thinks he has been betrayed by Marianne, who has gained her father's consent to travel on the same ship, pretending she is in love with Captain Duval. There is a mutiny but Robert takes charge and the bond servants come back into power. Everyone goes ashore on the Isle of Pines and a new republic is founded which flourishes under Robert's guidance. But Marianne, her pride hurt, at first refuses to marry Robert. Then Vicomte Ribaud makes a final attempt to conquer the island for the King of France. He is surprised to hear from the French Commander that there has been a revolution in France, and that all aristocrats like himself must die unless they renounce their titles. While he, ever the Royalist, goes to his inevitable doom, there follows are happy reunion for Citizen Robert and Citizeness Marianne.


MUSICAL NUMBERS
Marianne
Stout-Hearted Men
Lover, Come Back to Me
The Girl On The Prow
Try Her Out At Dances
Gorgeous Alexander
Softly, As In A Morning Sunrise
One Kiss
Wanting You
Love Is Quite A Simple Thing
Funny Little Sailormen
Never For You


CHARACTERS
Julie
Monsieur Beaunoir
Captain Georges Duval
Vicomte Ribaud
Fouchet
Robert
Alexander
Besac
Jacques
Marianne
Philippe
Doorman of the Tavern
Emile
Waiter
Landlord
Brunet
A Flower Girl
A Spaniard
A Dancer
Clotilde Lombaste
Captain Dejean
Plus Chorus


HISTORY
The New Moon opened at the Imperial Theatre on Broadway in 1928, starring Robert Halliday and Evelyn Herbert, and played 519 performances. It was then produced in London at the Theatre Royal, Drury Lane, in 1929, running for 148 performances and featured Evelyn Laye and Howett Worster.

There were subsequent revivals in New York in 1942 and 1944 and in 1986 the New York City Opera staged a production which was then televised on PBS in 1989.


Click here to return to our full list of musicals and operettas.
Warner/Chappell
For further information visit the Warner/Chappell website