Click here to return to our full list of musicals and operettas.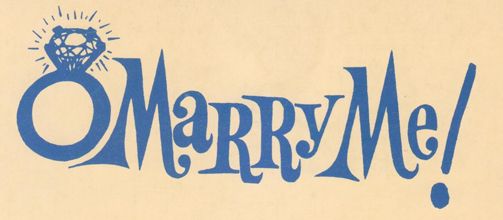 O MARRY ME!
Music by Robert Kessler
Libretto and Lyrics by Lola Pergament, based on Oliver Goldsmith's "She Stoops to Conquer"

Administered for rental and amateur stage rights by Boosey & Hawkes in the UK.
Licensing performances
If you wish to apply to perform the musical, then please send an email to musicals@boosey.com stating the following information only:
1) Name of school/society
2) Where you are (city/town)
3) What you want to perform (O Marry Me!)
4) When you want to perform (if exact dates are not yet known, then please provide the month)
We will then send you an application form by email to complete, along with details of costs involved. Once the form is completed and returned by email, a licence will be emailed to you for signature. Once signed we will be able to send you the music at the date requested on your application form.

Your hire requirements should be submitted on the application form, and details of materials available to hire can be found below.
Information
HIRE MATERIALS AVAILABLE & INSTRUMENTATION

We can provide orchestral parts (details below), vocal scores and libretti. Please note that you must use live musicians and the use of a backing track is strictly forbidden.

1 Cello
1 Flute/Clarinet
1 Piano


THE STORY
The time is the late afternoon and evening of a spring day in 1789. The place is a small English village, a day's carriage drive from London.

Marlow is a bashful young man who only feels easy with serving girls and barmaids. He therefore sets out with reluctance to win the hand of Miss Kate Hardcastle, a young lady of quality. He is tricked by the mischievous Tony Lumpkin into believing that the home of Kate's father is a village inn and goes there accompanied by his friend Hastings. Marlow treats the enraged Mr Hardcastle as if he were an impudent landlord. Kate takes advantage of the situation by posing first as a barmaid and then as a poor relative, thus 'conquering' young Marlow. Constance Neville, who is Kate's friend and cousin, falls in love with Hastings. This does not please Mrs Hardcastle who dotes on her oafish Tony, her son by a previous marriage. She had intended a match for him with Constance. The mistakes of the evening unravel with the arrival of Marlow's father. Mr Hardcastle forgives young Marlow and all ends happily.

The action of the play takes place at the Three Pigeons Tavern and in Hardcastle's House.


PRINCIPAL MUSICAL NUMBERS
The Kind of Man (Kate)
Be A Lover (Hastings, Marlow)
Fashions (Mrs Hardcastle, Hastings)
Perish The Baubles (Hastings)
The Braggart (Marlow, Kate)
My Proper Due (Tony)
Betrayed (Ensemble)
O Marry Me (Kate)
I Love Everything That's Old (Mr Hardcastle)


CHARACTERS AND VOCAL RANGES
Kate Hardcastle (Soprano)
Mrs Hardcastle (Contralto or Mezzo)
Constance Neville (Soprano)
Pimple, A Maid (Soprano)
Bridget, A Cook (Mezzo Soprano)
Bett Bouncer (Soprano)
Charles Marlow (Baritone)
George Hastings (Tenor)
Tony Lumpkin (Baritone or Tenor)
Squire Hardcastle (Bass Baritone)
Sir Charles Marlow (Bass Baritone)
Diggory, A Servant (Bass Baritone)
Roger, A Servant (Tenor)
Stingo, The Publican (Baritone)
Chorus of Tavern Fellows and Girls, the young men's servants, and extra servants in the Hardcastle House.


HISTORY
When Oliver Goldsmith's brilliant comedy, "She Stoops To Conquer", opened at Covent Garden on March 15th, 1773, Pit, Boxes and Galleries roared with delight and laughter. Since that night, "She Stoops to Conquer" has held the stage as one of the most popular comedies in the English Language.

"O Marry Me!" is the first professional embodiment in musical form of Goldsmith's wonderfully humorous story. This seems strange in view of Goldsmith's original intent that his principal character, Kate, sing at least one lyric of which we have record. Unfortunately the actress playing Kate was unable to carry a tune and so all thought of music was abandoned.

In creating "O Marry Me!" every effort was made to adapt the book, fashion the lyrics and compose the music while retaining the irresistible flavour of Goldsmith's classic – and to highlight Goldsmith's definition of comedy: To incite our laughter by ridiculing the follies of mankind.

"O Marry Me!" was first produced at the Gate Theatre in New York City on October 17th, 1961. On June 18th, 1963, it was produced at the Theatre Royal, Windsor, with a cast including Patricia Bredin, Richard Easton, Ian Wallace, Tony Tanner and Janet Howe.


Click here to return to our full list of musicals and operettas.
Warner/Chappell
For further information visit the Warner/Chappell website