Click here to return to our full list of musicals and operettas.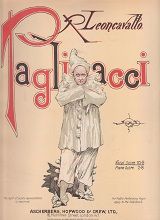 I PAGLIACCI
Music and libretto by Ruggero Leoncavallo
English translations by either Frederic Weatherly or Tom Hammond

Administered for rental and amateur stage rights by Boosey & Hawkes in the UK.
Licensing performances
If you wish to apply to perform the work, then please send an email to musicals@boosey.com stating the following information only:
1) Name of school/society
2) Where you are (city/town)
3) What you want to perform (specifying the version you wish to perform)
4) When you want to perform (if exact dates are not yet known, then please provide the month)
We will then send you an application form by email to complete, along with details of costs involved. Once the form is completed and returned by email, a licence will be emailed to you for signature. Once signed we will be able to send you the music at the date requested on your application form.
Details of hire requirements should be submitted on the application form. We can provide orchestral parts (details below), as well as piano vocal scores and chorus scores. Please note that you must use live musicians and the use of a backing track is strictly forbidden.
Information
INSTRUMENTATION
2 Flutes (1 Piccolo)
2 Oboes (1 Cor Anglais)
2 Clarinets (1 Bass Clarinet)
3 Bassoons
4 Horns
3 Trumpets
3 Trombones
1 Tuba
1 Timpani
3 Percussion
2 Harps
1 Bells
Strings
On Stage violin, oboe, trumpet, bass drum


THE STORY (Montalto in Calabria, Sicily; The Feast of Assumption circa 1870)
A troupe of strolling players arrives in the Sicilian village of Calabria to perform a comic play. Having drummed up support for the production amongst the townsfolk, Canio retires to the tavern for a drink while Tonio takes advantage of Canio's absence to declare his love for Nedda. She firmly rejects his advances and is forced to defend herself with a whip when he tries to kiss her. Nedda is in love with Silvio who has persuaded her to elope with him after the play that night. However, Tonio overhears their declarations of love and, seeking revenge on Nedda, informs Canio. Canio returns too late to catch her lover, but threatening her with a knife, demands to know his name. She refuses and is only prevented by carrying out his threats by Peppe who disarms him and persuades them all to get ready for the performance. At first the play exactly mirrors events to date – Taddeo's professions of love for Columbine are rejected in favour of Harlequin's and when Pagliaccio discovers she has a lover he demands that she confess his name. It soon becomes clear, however, that Canio is referring to Nedda's lover in reality and is no longer acting the part of the Pagliaccio. When she declares that she will never divulge his name, Canio, in a jealous rage, lunges at her with a knife and strikes her down. As she collapses, she calls for Silvio thereby identifying her lover. As he rushes to her side, he too is fatally wounded by Canio, and the "comedy" comes abruptly to a close amid much confusion.


PRINCIPAL CHARACTERS
Nedda (Actress Wife of Canio / Columbine)
Canio (Leadre of a Troupe of Strolling Players / Pagliaccio)
Tonio (a half – witted Hunchback and knockabout Comedian / Taddeo)
Peppe (an Actor / Harlequin)
Silvio (a Peasant)


PRINCIPAL MUSICAL NUMBERS
Intermezzo (Orchestra)
Stridono Lassu (Nedda)
Vesti La Giubba (Canio)
Un Tal Gioco (Canio)
No, Pagliaccio Non Son! (Canio)


Click here to return to our full list of musicals and operettas.
Warner/Chappell
For further information visit the Warner/Chappell website