Click here to return to our full list of musicals and operettas.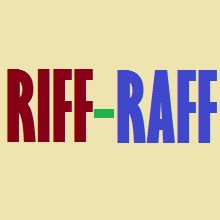 RIFF-RAFF
Music by Greg Sneddon
Lyrics by Greg Sneddon and Phil Sumner
Books by Phil Sumner and Jan McDonald

Administered for rental and amateur stage rights by Boosey & Hawkes in the UK.
Licensing performances
If you wish to apply to perform the musical, then please send an email to musicals@boosey.com stating the following information only:
1) Name of school/society
2) Where you are (city/town)
3) What you want to perform (Riff-Raff)
4) When you want to perform (if exact dates are not yet known, then please provide the month)
We will then send you an application form by email to complete, along with details of costs involved. Once the form is completed and returned by email, a licence will be emailed to you for signature. Once signed we will be able to send you the music at the date requested on your application form.
Details of hire requirements should be submitted on the application form. We can provide piano vocal scores and libretti. Please note that you must use live musicians and the use of a backing track is strictly forbidden.
Information
INSTRUMENTATION
Piano only


THE STORY
"Riff-Raff" is a rock musical which speaks to the young people of today about problems which face them. No facile answers are offered and no easy way out is shown. The view, presented throughout the script, is the right of young people to challenge the world around them, to question the direction in which they are moving and to demand explanations from the figures of authority and influences in their lives. Razie, shy and lacking in confidence, feels the restrictions of her migrant background when she wants to be part of the gang. Her friend Julie, brash, street-wise and angry, is suspicious and critical of her situation, her peers and the world in which she finds herself. Mick, bright, breezy, a likeable Mr Nice Guy, still finds himself in difficulties when his deep ambition to succeed is thwarted while his school friend Doogs, tough and aggressive, is openly hostile to the world but underneath is a vulnerable innocent. These four school friends find escape, excitement and danger in the glitzy world of Spinner, a smooth treacherous D.J.


PRINCIPAL CHARACTERS
Spinner (KAOS / FM Breakfast D.J)
Razie (The Dork)
Julie (The Go-getter)
Mick (Mr Nice Guy)
Doogs (The Tough Guy)


PRINCIPAL MUSICAL NUMBERS
Oh! To Be Eighteen
All They Want Is A Good Time
Lois Lane
Cheat Street


Click here to return to our full list of musicals and operettas.
Warner/Chappell
For further information visit the Warner/Chappell website