Click here to return to our full list of musicals and operettas.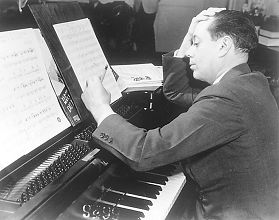 A SWELL PARTY
Music and Lyrics by Cole Porter
Written by John Kane
Conceived by David Kernan

Administered for rental and amateur stage rights by Boosey & Hawkes in the UK.



"A Swell Party" is a celebration of the life of Cole Porter through words and music.
Please follow this link to listen to extracts from a selection of songs from the musical.
Licensing performances
If you wish to apply to perform the musical, then please send an email to musicals@boosey.com stating the following information only:
1) Name of school/society
2) Where you are (city/town)
3) What you want to perform (A Swell Party)
4) When you want to perform (if exact dates are not yet known, then please provide the month)
We will then send you an application form by email to complete, along with details of costs involved. Once the form is completed and returned by email, a licence will be emailed to you for signature. Once signed we will be able to send you the music at the date requested on your application form.
Details of hire requirements should be submitted on the application form. We can provide orchestral parts (details below), as well as piano vocal scores and libretti.
Please note that you must use live musicians and the use of a backing track is strictly forbidden.
Information
INSTRUMENTATION
2 pianos


THE STORY
"A Swell Party" is a celebration of the life of Cole Porter through words and music. The show attempts to re-create the spirit of Cole, his life and works. He is portrayed, not as the old man crippled by the terrible riding accident, but as the young, vibrant image of sophistication and glamour which he and his music represented for so long to so many people. During the first act we travel back to time to his childhood years and the early struggles to perfect his art, climaxing with an unbroken string of great songs composed during his most successful early period. The terrible accident which was to cripple him for the rest of his life is only hinted at and the first Act ends with Cole riding on the wave of his success. Act two momentarily recounts the events surrounding his accident and his struggle to maintain his lifestyle in its aftermath. Inevitably his work suffers due to a loss of energy and the constant pain he has to endure. But this show is not about his pain, but about the genius and indomitable spirit. With a new generation of composers and lyricists snatching the laurel wreath from him, Cole fights back and his reward is his great stage and film successes names "Kiss Me Kate" and "High Society". The final song presented in the evening's entertainment is "Wouldn't It Be Fun Not To Be Famous", however, the audience will have no doubt that despite the painful latter years, Cole enjoyed his life to the full.


PRINCIPAL CHARACTERS
2 Male lead
2 female lead
1 male singing pianist
1 non-singing pianist


PRINCIPAL MUSICAL NUMBERS
I Get A Kick Out Of You (male solo)
Anything Goes (male solo)
Red, Hot and Blue (female solo)
I've Got You Under My Skin (male solo)
Night and Day (Female solo)
Ev'ry Time We Say Goodbye (male and female duet)
Let's Do It, Let's Fall in Love (Company)
Well Did You Evah! (Company)
You're The Top (Company)


Click here to return to our full list of musicals and operettas.
Warner/Chappell
For further information visit the Warner/Chappell website