Click here to return to our full list of musicals and operettas.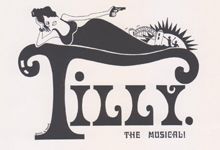 TILLY
Music by Tony Rees
Lyrics by Gary Young and Tony Rees
Book by Maureen Ann Moran

Administered for rental and amateur stage rights by Boosey & Hawkes in the UK.


"THE QUEEN OF CRIME" – She is Tilly Devine.
Please follow this link to listen to extracts from a selection of songs from the musical.
Licensing performances
If you wish to apply to perform the musical, then please send an email to musicals@boosey.com stating the following information only:
1) Name of school/society
2) Where you are (city/town)
3) What you want to perform (Tilly)
4) When you want to perform (if exact dates are not yet known, then please provide the month)
We will then send you an application form by email to complete, along with details of costs involved. Once the form is completed and returned by email, a licence will be emailed to you for signature. Once signed we will be able to send you the music at the date requested on your application form.

Your hire requirements should be submitted on the application form, and details of materials available to hire can be found below.
Information
HIRE MATERIALS AVAILABLE & INSTRUMENTATION

We can provide orchestral parts (details below), vocal scores and libretti. Please note that you must use live musicians and the use of a backing track is strictly forbidden.

1 Piano Conductor's Score
1 Trumpet I
1 Trumpet II
1 Trombone I
1 Trombone II
1 Alto Saxophone
1 Tenor Saxophone
1 Drums
1 Percussion
1 Timpani
1 Piano
1 Bass


THE STORY
The musical traces the rise to fame of Tilly Devine from London prostitute at the end of World War I to reigning "Bordello Queen" of Sydney's underground, during the Depression and World War II. Tilly at her fiftieth birthday party, once again the centre of scandalous headlines, looks back to her "rise to infamy", the two great loves of her life, Digger Devine and Mike, her outrageous history and her remarkable ability to survive. This energetic, colourful, gutsy, risqué romp is also the poignant and human story of this woman's battle to "keep her head above water" and to hold on to some semblance of love and life. She turns every opportunity to her advantage. Her methods are unorthodox. Her manner is brash. She is the "rough diamond" the newspapers call "THE QUEEN OF CRIME" – She is Tilly Devine.


PRINCIPAL MUSICAL NUMBERS
Front Page News
Something'll Turn Up
This Time It's Gonna Be Different
Blue Sky
Sharing The Load
The First Time In My Life


CHARACTERS
Tilly
Young Tilly
Digger Devine
Mike
Tools
Bandages
Duicle
Gloria
Melba
Flo
Charlie
Emit
Plus chorus – policemen, reporters, socialites, life-savers, prostitutes, recruiting officer, Salvos, etc.


HISTORY
Performed at the Buxton Festival in May 1992.


AWARDS
One of the winners of 'The Quest for New Musicals', launched in 1990 by the Buxton Opera House. The 'Quest' aimed to find new talent in the world of musical theatre.


Click here to return to our full list of musicals and operettas.
Warner/Chappell
For further information visit the Warner/Chappell website