Click here to return to our full list of musicals and operettas.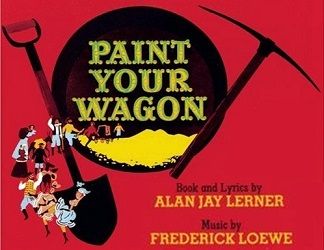 PAINT YOUR WAGON
Music by Frederick Loewe
Libretto & Lyrics by Alan Jay Lerner

Administered for rental and amateur stage rights by Boosey & Hawkes in the UK
Please follow this link to view the vocal score online, free of charge.
Please follow this link to listen to extracts from a selection of songs from the musical.
If you wish to apply to perform the musical, then please send an email to musicals@boosey.com stating the following information only:
1) Name of school/society
2) Where you are (city/town)
3) What you want to perform (Paint Your Wagon)
4) When you want to perform (if exact dates are not yet known, then please provide the month)
We will then send you an application form by email to complete, along with details of costs involved. Once the form is completed and returned by email, a licence will be emailed to you for signature. Once signed we will be able to send you the music at the date requested on your application form.

Your hire requirements should be submitted on the application form, and details of materials available to hire can be found below.
HIRE MATERIALS AVAILABLE & INSTRUMENTATION

We can provide orchestral parts (details below), vocal scores, and libretti. Please note that you must use live musicians and the use of a backing track is strictly forbidden.

1 Conductor Score – annotated vocal score
1st Reed – Flute/Picc/Clarinet/Alto Sax
2nd Reed – Oboe/Clarinet/Alto Sax
3rd Reed – Clarinet/Tenor Sax
4th Reed – Clarinet/Bass Clarinet/Tenor Sax
5th Reed – Bassoon/Clarinet/Baritone Sax
1 Horn 1
1 Horn 11
1 Trumpet 1
1 Trumpet 11
1 Trombone 1
1 Trombone 11
1 Percussion
1 Guitar
2 Violins I
1 Violin II
1 Viola/Mandolin
1 Cello
1 Double Bass


THE STORY
Set in 1853, during the Californian Goldrush.

The story begins with Jennifer, Ben Rumson's uneducated sixteen year old daughter, discovering gold whilst running her hands through the dirt. News travels fast and prospectors from all around rush to Rumson Creek to make their fortunes. Being the only female, Jennifer has to deal with many 'frustrated' gold miners, but eventually strikes a close friendship with a Mexican called Julio. Ben realises that Jennifer is not such a "little girl" any more and decides that it is time for her to leave on the next eastbound coach to be educated. Jacob, a middle aged Mormon, arrives at Rumson and is only allowed to stay on the condition that he auctions one of two wives. After some deliberation he agrees and Elizabeth is sold to Ben, much to the disgust of Jennifer, who packs her bags and runs to Julio's cabin in the mountains. After some discussion, she decides to go east to school, and return when Julio has made his fortune. Jake, a miner in his thirties, makes his money, builds a Music Hall and consequently sends for his wife, Cherry. With her she brings a wagon load of fandangos – much to the men's delight! As with all good things, the gold begins to run out and slowly the men pack up and leave. Jennifer returns unexpectedly, intending to marry Julio, who she later learns has left for the mountains in search of gold. (She is now very noticeable a "young lady"!) News that gold has been struck forty miles away heralds a new gold rush, although Ben decides he cannot leave Rumson, his home town. The story ends when Julio returns, by chance, and Jennifer runs into his arms.


PRINCIPAL MUSICAL NUMBERS
I'm On My Way (Steve, men)
I Talk To The Trees (Julio)
They Call The Wind Maria (Steve)
Whoop-Ti-Ay (Ben, chorus)
Carino Mio (Julio)
How Can I Wait (Jennifer)
Wanderin' Star (Ben)


PRINCIPAL CHARACTERS
Ben
Jennifer
Elizabeth
Steve
Julio

Plus chorus


HISTORY
Paint Your Wagon was first performed at the Sam S. Shubert Theatre, New York on 12th November 1951, and ran for 289 performances.

The UK premiere opened on 11th February 1953 at Her Majesty's Theatre, London, where it played for 477 performances.

"Wand'rin' Star", became a UK number 1 hit for the actor Lee Marvin after his performance in the 1969 film version.


Click here to return to our full list of musicals and operettas.
Warner/Chappell
For further information visit the Warner/Chappell website