Click here to return to our full list of musicals and operettas.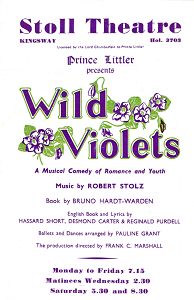 WILD VIOLETS
Music by Robert Stolz, English Lyrics by Desmond Carter
English Libretto by Hassard Short, Desmond Carter and Reginald Purdell
From the original musical play by Bruno Hardt-Warden

Administered for rental and amateur stage rights by Boosey & Hawkes in the UK.

Licensing performances
If you wish to apply to perform the musical, then please send an email to musicals@boosey.com stating the following information only:
1) Name of school/society
2) Where you are (city/town)
3) What you want to perform (Wild Violets)
4) When you want to perform (if exact dates are not yet known, then please provide the month)
We will then send you an application form by email to complete, along with details of costs involved. Once the form is completed and returned by email, a licence will be emailed to you for signature. Once signed we will be able to send you the music at the date requested on your application form.

Your hire requirements should be submitted on the application form, and details of materials available to hire can be found below.
Information
HIRE MATERIALS AVAILABLE & INSTRUMENTATION

We can provide orchestral parts (details below), vocal scores and libretti. Please note that you must use live musicians and the use of a backing track is strictly forbidden.

1 Conductor Score - annotated vocal score
1 Flute
1 Oboe
1 Clarinets I/II
1 Bassoon
1 Horns I/II
1 Trumpets I/II
1 Trombone
1 Percussion
2 Violins I
1 Violin II
1 Viola
1 Cello
1 Double Bass


THE STORY (The Present)
Mr Paul Hoffman and his two friends arrive at The Stone Jug, a mountain inn, on their way to an annual school reunion. We are then taken back to the early part of the century when Paul, Otto and Erik, friends and students at a college, are waiting outside a neighbouring school. They are hoping to see three girls – Liesel, Mitzi and Lena. Otto and Liesel are fond of each other. Paul, however, bets that within twenty-four hours he can win Liesel's affection. The boys go along to see Madame Hoffman, the Headmistress of the girls' school, to ask for her help during a forthcoming students' celebration. Madame Hoffman, who is Paul's aunt, is extremely uncooperative. Whilst she is welcoming a new pupil – Mary Rutherford – Paul intercepts a telegram which is meant to inform Madame Hoffman that the new music master, Dr Franck, will not be able to arrive until the following day. In order to ingratiate himself with the girls, Paul makes an 'arrival' at the school disguised as Dr Franck. There is a great uproar when the real Dr Franck arrives. Realising that as a result of this episode he will not be allowed near the school again, Paul and Mary arrange a rendezvous outside the school and depart to get married. We come back to the present day, certain that Paul's son Carl will learn a lesson from his Father's past


PRINCIPAL MUSICAL NUMBERS
A Girl Has Got My Heart (Paul, Otto, Erik, Boys)
Don't Say Goodbye (Mary, Boys)
Charming Weather (Liesel, Otto, Mitzi, Erik)
You, Just You (Mary, Paul)


PRINCIPAL CHARACTERS
Paul Hoffman
Otto Berg
Erik Schmidt
Liesel
Mitzi
Lena
Mary Rutherford
Augusta


HISTORY
First produced at the Theatre Royal, Drury Lane on 31st October 1932.


Click here to return to our full list of musicals and operettas.
Warner/Chappell
For further information visit the Warner/Chappell website